An annual series from the Perth Mint is expanded to its fifth release with the 2013 ANZAC Australian Defence Force Engineers $1 Coin.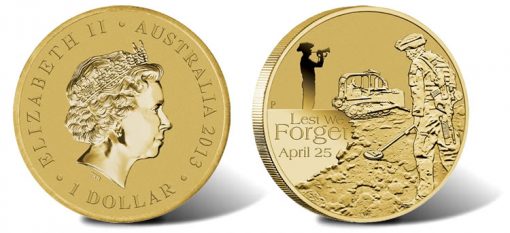 Each of these coins is available worldwide on a mint-to-order basis. Shown on the reverse of the coin is an emblematic tribute to the Royal Engineers of the Australian Defence Force.
The inaugural release of the ANZAC series of coins first appeared in 2009. Since then, new strikes have been issued annually each featuring a reverse design emblematic of a different defence force theme. Coins of the series include:
2009 ANZAC Australian Diggers $1 Coin
2010 ANZAC Royal Australian Navy $1 Coin
2011 ANZAC Royal Australian Air Force $1 Coin
2012 ANZAC Australian Defence Force Nurses $1 Coin
Each commemorates the important sacrifices made by members of the defence forces.
ANZAC Day is held on April 25th in Australia. It was originally established to honor the members of the Australian and New Zealand Army Corps (ANZAC) who landed in Gallipoli on April 25, 1915 during World War I.
Shown on the reverse of the 2013 ANZAC $1 coin is a design by Perth Mint artist Wade Robinson. It depicts an engineer searching for landmines with a bulldozer in the background. A silhouette of a bugler also appears toward the backg atop the inscription "Lest We Forget – April 25."
Obverses feature Ian Rank-Broadley's portrait of Queen Elizabeth II. Surrounding the portrait are the inscriptions ELIZABETH II, AUSTRALIA, 2013 and the face value of 1 DOLLAR.
The Perth Mint presents each coin on a specially designed display card which features a photographic image of a Royal Australian Engineer who is conducting a dawn service. Specifications of the release include a diameter of 30.60 mm, a thickness of 3.10 mm and a gross weight of 13.80 grams. Each is struck from aluminum bronze.
Orders for the 2013 ANZAC Australian Defence Force Engineers $1 Coin may be placed directly with the Perth Mint website on this product page. Pricing is now listed at AUS $12.27 per coin.