The Perth Mint of Australia treads into new territory with the release of its 2013 Australian Koala 5 oz. High Relief Silver Proof Coin.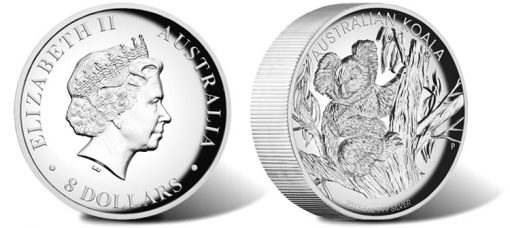 Never before has the Perth Mint released a five ounce koala coin in high relief. Its unique size, limited mintage of 5,000 and collector's perennial interest in the koala series combine for an attractive offering that could result in a sellout.
Both the obverse and reverse of the silver proof coin are minted on concave surfaces. This ensures an optimum flow of metal when struck by the die, resulting in a superb level of detail in each design.
Shown on the high relief reverse is the Perth Mint's annual design for 2013 Koala silver coins. It was completed by Perth Mint artist Tom Vaughan and showcases an adult koala resting in the fork of a eucalyptus tree. Reverse inscriptions include AUSTRALIAN KOALA and 2013 5 OZ 999 SILVER. The Perth Mint's 'P' mint mark is also on the reverse.
Offered on the obverse is a portrait of Queen Elizabeth II by Ian Rank-Broadley. Obverse inscriptions include ELIZABETH II, AUSTRALIA and 8 DOLLARS. The artist's initials of IRB are below the effigy.
Each proof coin is struck from five ounces of 99.9% pure silver. Maximum thickness of the high relief piece is 12.50 mm with a maximum diameter of 50.60 mm. The minimum gross weight of the release is 155.673 grams.
2013 Australian Koala Silver Proof Coins are housed in a presentation case that ships inside an illustrated shipper. A numbered certificate of authenticity is also included.
Direct orders are limited to Australia. Pricing for the 5 oz. silver proof coin is AUS $510.00, though that can change based on the market value of precious metals.
Ad Banner to Australian Koala 5 Oz Silver Proof Coin

About the Perth Mint
The Royal Mint of England originally opened the Perth Mint of Australia (http://www.perthmint.com.au/) in 1899 as a branch of the London facility. It continued in operation as a branch of the Royal Mint until ownership transferred to the State Government of Western Australia in 1970.
Today, the Perth Mint is the official issuer of the Australian Federal Government's Gold and Silver Bullion Coin Program. In addition, it produces some of the world's most unusual collectible coins.