The Perth Mint of Australia closes out the Dragons of Legend five-coin series with the release of the 2013 European Green Dragon 1 Ounce Silver Proof Coin.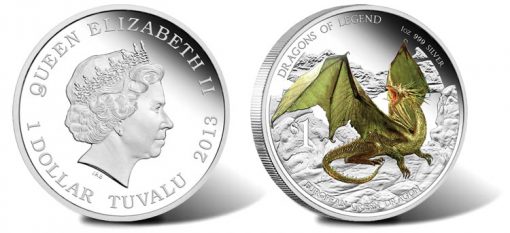 Like the previous four issues, the European Green Dragon Coin is minted from one ounce of 99.9% pure silver to a proof finish. The maximum mintage of this release is 5,000.
Shown on the reverse is a colored image of a mythical European Green Dragon. The dragon appears with its wings spread against a mountain scene. Inscriptions surrounding the design include DRAGONS OF LEGEND, EUROPEAN GREEN DRAGON, 1 OZ 999 SILVER and the coin's face value of $1.
These silver proof coins are legal tender of the island nation of Tuvalu and includes the Ian Rank-Broadley portrait of Queen Elizabeth II on the obverse. Inscribed around the portrait are QUEEN ELIZABETH II, 2013, 1 DOLLAR and TUVALU.
Each European Green Dragon is housed in a black presentation case which ships inside an illustrated shipper that depicts an artistic representation of the mythical creature. A numbered certificate of authenticity is also included.
Minimum gross weight of each piece is 31.135 grams. They feature a diameter of 40.60 mm and a thickness of 4.00 mm.
Coins from the Dragons of Legend series are struck by the Perth Mint on behalf of Coin Club Australia. The club donates $1 to UNICEF-Australia for every coin purchased.
Current pricing of the 2013 European Green Dragon Coin is AUS $104.09, or US $108.34. Pricing is subject to change based on the market value of silver. The Perth Mint of Australia accepts orders straight from its website.
Ad Banner to Perth Mint Website

Previous coins from the Dragons of Legend series included designs depicting a Red Welsh Dragon, a Chinese Dragon, St George and the Dragon and a Three-Headed Dragon.
About the Perth Mint
The Royal Mint of England originally opened the Perth Mint of Australia (http://www.perthmint.com.au/) in 1899 as a branch of the London facility. It continued in operation as a branch of the Royal Mint until ownership transferred to the State Government of Western Australia in 1970.
Today, the Perth Mint is the official issuer of the Australian Federal Government's Gold and Silver Bullion Coin Program. In addition, it produces some of the world's most unusual collectible coins.