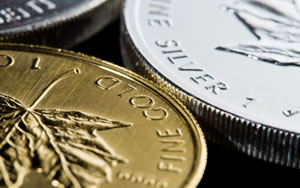 Investor interest in silver bullion coins remains at high levels with yet another world mint showing signs that it is unable to meet demand. The Royal Canadian Mint is now rationing supplies of its 2013 Silver Maple Leaf.
This move comes one week after the United States Mint suspended sales of their 2013 American Eagle silver bullion coins after inventories sold out, saying it would ration or limit orders when sales resume. Both series of bullion coins are struck for investors and guaranteed for weight and purity by the issuing government.
A statement offered by the Royal Canadian Mint identifies strong demand as the catalyst for the Maple Leaf rationing:
"We are carefully managing supply in the face of very high demand for SML (Silver Maple Leaf) coins to ensure all our distributors are served and we continue to take sales orders," states Alex Reeves, RCM Senior Manager of Communications.

"Coming off strong sales volumes in December 2012, demand to date remains very strong for our Silver Maple Leaf and Gold Maple Leaf bullion coins. Specific (sales) numbers will be made available at our regular reporting intervals."
Unfortunately, as the statement implies, current Silver Maple Leaf sales are not readily available. The Royal Canadian Mint publishes its sales stats in quarterly and annual statements. 2011 annual sales hit a record 23.1 million. The U.S. Mint also had a record year for its Silver Eagles in 2011 with sales of over 39.8 million. And like the U.S. Mint, sales remained strong but retreated in 2012. In quarterly breakdowns for the Royal Canadian Mint, it logged Silver Maple Leaf sales of:
3.9 million in Q1 2012,
4.0 million in Q2 2012, and
4.8 million in Q3 2012
In short, in 2012 it moved 12.7 million bullion coins through the third quarter. The U.S. Mint through the first nine months of 2012 notched Silver Eagle sales of 25.795 million.
With that, an idea of recent Silver Maple Leaf demand may be inferred from recent U.S. Mint's sales of Silver Eagles. 2013-dated American Eagle silver bullion coins launched on Jan. 7, 2013 and racked up record sales of 3,937,000 coins in one day. In less than two weeks, sales totaled 6,007,000. It was at that point when the U.S. Mint announced it needed to rebuild its inventory.
As for the Canadian Silver Maple Leaf bullion coins, investors and collectors will likely have to wait for the Royal Canadian Mint's first quarter sales report to get an idea of the triggering demand level for its rationing process.