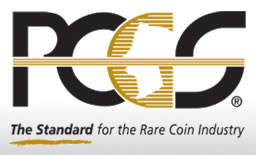 Professional Coin Grading Service (www.PCGS.com) is launching a series of PCGS Collectors Education Programs with the first one, "Grading 101," scheduled for Saturday, February 9, 2013, at the Long Beach Coin, Stamp & Sports Collectible Expo.
The five-hour class from 10 am to 3 pm will be taught by PCGS Education Director Michael Sherman, PCGS Co-Founder and Collectors Universe President David Hall, and PCGS CoinFacts™ President Ron Guth. Lunch with the three instructors is included with the class.
"Grading 101 will cover the basics of grading United States circulated and mint state coins. We will show you how to determine grades by weighing the key criteria of surface preservation, strike, luster and eye appeal," said Don Willis, President of PCGS, a division of Collectors Universe, Inc. (NASDAQ: CLCT).

"This will be the first of the PCGS Grading School programs. We will present increasingly advanced educational programs at future Long Beach Expo shows with Grading 102 on June 8 and Grading 103 on September 28," Willis explained.
The Grading 101 course topics include: Introduction to Grading; History of Coin Grading; Elements of Coin Grading; Grading Mint State Coins; Grading Circulated Coins; Techniques of Grading; Tips and Advice from a Pro.
The cost for the course, including lunch, is $149 for Gold, Platinum and Diamond level PCGS Collectors Club members and $199 for Silver level members and non-members.
Additional information is available here.
Attendance space for Grading 101 is limited and advance registration is required by contacting PCGS Customer Service at (800) 447-8848 or by email at info@pcgs.com.