The last United States Mint issued 2012 Presidential $1 Coin & First Spouse Medal Set debuted Thursday, Dec. 20. This one is the second set recognizing Grover and Frances Cleveland, sporting the second term Presidential $1 Coin of Grover and the second term bronze medal of Frances.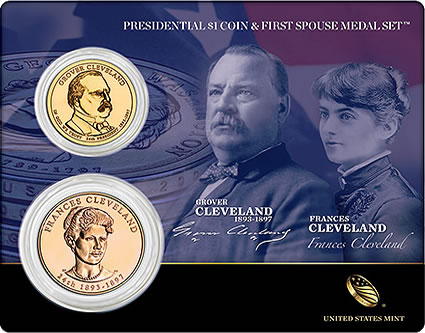 The Presidential $1 Coin is an uncirculated version of the Grover Cleveland $1 coins released on November 15, 2012 in bags, rolls and boxes. The 1 5/16-inch bronze medal has the same obverse and reverse designs as the 24-karat Frances Cleveland First Spouse Gold Coins that also debuted Thursday, Dec. 20, 2012.
A "durable plastic card" holds the coin and medal, as shown in the image above. This is the same card used for the first term set launched on Nov. 20, 2012. Its front has portraits and signatures of Frances and Grover Cleveland. Printed on the back is product information.
Pricing for the second term Cleveland Presidential $1 Coin & First Spouse Medal Set at $9.95 is the same as the three other sets released this year. Prior-year sets remain available as well. Those from 2011 cost $14.95 and those from 2010 cost $11.95. Sales have slowed for them overall. The latest sales figures follow.
2010 – 2012 Presidential $1 Coin & First Spouse Medal Set Sales*
Latest
Sales
2010 Millard & Abigail Fillmore
10,247
2010 Franklin & Jane Pierce
8,087
2010 Buchanan's Liberty
7,845
2010 Abraham & Mary Todd Lincoln
15,469
2011 Andrew & Eliza Johnson
6,305
2011 Ulysses & Julia Grant
6,547
2011 Rutherford & Lucy Hayes
5,286
2011 James & Lucretia Garfield
4,854
2012 Chester Arthur & Alice Paul
3,386
2012 First Term Grover and Frances Cleveland
not yet reported**
2012 Benjamin & Caroline Harrison
1,111
*Sales are as of December 17, 2012. **Sales of the Presidential $1 Coin & First Spouse Medal Set for the couple's first term are not available as the United States Mint is yet to report them.
The U.S. Mint is accepting orders for the sets through its website or at 1-800-USA-MINT (872-6468). There are no household ordering or product limits stated.