The Perth Mint has launched its 2013 Budgerigar 1/2 oz Silver Proof Coin, the second issue in a new series featuring Birds of Australia.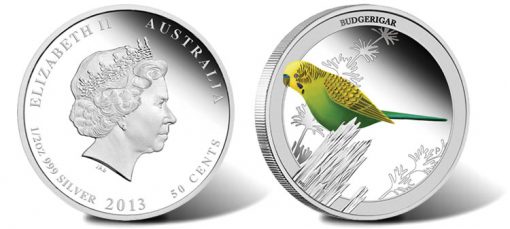 This 99.9% pure silver proof coin portrays a Budgerigar from the side in striking green and yellow colors with its long tail feathers extended. The bird is perched among silver frosted foliage. Next to Natasha Muhl's artwork is the Perth Mint's 'P' mint mark. Above the image is the inscription, "BUDGERIGAR."
"Well-known around the world as an intelligent companion, the charming Budgerigar was a natural choice for our stunning Birds of Australia coin program," noted Ron Currie of the Perth Mint.

"Judging by the popularity of the first release, the Red-tailed Black Cockatoo, we anticipate that our follow-up design will be well received by coin distributors and bird enthusiasts alike."
Budgerigars are small well known parakeets. People like them as pets as they are generally playful, inexpensive and can mimic human speech. The birds are found in the wild throughout the dry parts of Australia. Budgerigars are currently in breeding season.
"Australia is experiencing a boom period with reports of flocks of up to 15,000 at waterholes from Alice Springs to Barrow Creek," notes The Perth Mint. "Viewed from a distance, these thriving budgies look like a swarm of insects."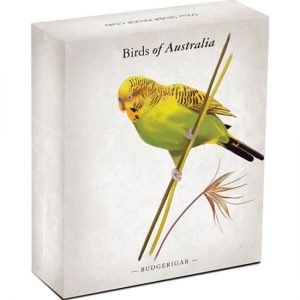 Similar to the first strike in the Birds of Australia coin series, the obverse features Ian Rank-Broadley's effigy of Her Majesty Queen Elizabeth II. Inscriptions include, "ELIZABETH II," "AUSTRALIA," "1/2 OZ 999 SILVER," "2013" and "50 CENTS." The proof coin has a diameter that stretches to 36.60 mm and a thickness of 2.30 mm.
Only 10,000 of the 2013 Budgerigar Silver Proof Coins will be minted and sold worldwide. Each is encapsulated and packaged in a colorful illustrated shipper featuring the Budgerigar, along with a black presentation case and a numbered Certificate of Authenticity.
The 2013 Budgerigar 1/2 oz Silver Proof Coin lists for AUS $61.36 (~ $63.73 US) and is available directly from The Perth Mint website. Prices are subject to change daily based on market conditions.
Ad Banner to Perth Mint Website

Next up in the Birds of Australia coin series are the Regent Bowerbird, Rainbow Lorikeet, and Splendid Fairy-wren. All five releases are also offered by subscription.
About the Perth Mint
The Royal Mint of England originally opened the Perth Mint of Australia (http://www.perthmint.com.au/) in 1899 as a branch of the London facility. It continued in operation as a branch of the Royal Mint until ownership was transferred to the State Government of Western Australia in 1970. Today, the Perth is the official issuer of the Australian Federal Government's Gold and Silver Bullion Coin Program in addition to producing some of the world's most unique collectible coins.