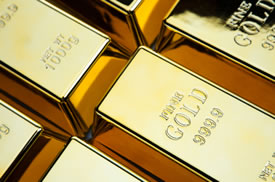 Gold, silver and other precious metals advanced on the final day of October but fell hard for the month.
October losses amounted to 3.1% for gold, 6.5% for silver prices, 5.5% for platinum and 4.8% for palladium. Gold's monthly decline was the first since May while silver's was the first since June.
Following two days of suspended floor trading due to Superstorm Sandy, gold for December delivery closed up $7.00, or 0.4%, to $1,719.10 an ounce on the Comex in New York. The settlement price was the highest since October 22. Prices on Wednesday traded between $1,709.80 and $1,726.60.
"There are those who are still looking for another dip [in gold], perhaps one that offers an opportunity to jump in sub-$1700, between now and year-end," UBS said in a report Wednesday, according to Reuters.

"The clear downtrend from earlier in the month has now been replaced by this consolidation phase. But the possibility of another attempt on the downside certainly cannot be ruled out, especially with U.S. nonfarm payrolls coming up and the U.S. elections looming."
Gold has gained $152.30 or 9.7% in 2012.
In other New York futures prices on Wednesday and for the year:
Silver prices for December delivery closed at $32.316 an ounce, rising 50.0 cents or 1.6%. Silver ranged from $31.755 to $32.435. Silver prices are up $4.40 or 15.8% in 2012.

Platinum for January delivery advanced $23.40, or 1.5%, to $1,577.00 an ounce, ranging from $1,550.70 to $1,579.80. Platinum has gained $172.10 or 12.2% this year.

Palladium for December added $13.65, or 2.3%, to $609.80 an ounce, trading between $595.10 and $611.85. Palladium prices have fallen $46.35 or 7.1% in 2012.
London Bullion Prices
Precious metals climbed in London as well. In contrasting the latest London PM fixings:
Gold edged up $9.00, or 0.5%, to $1,719.00 an ounce,
Silver prices rose 30.0 cents, or 0.9%, to $32.28 an ounce,
Platinum gained $25.00, or 1.6%, to $1,570.00 an ounce, and
Palladium added $12.50, or 2.1%, to $606.00 an ounce
For October, London precious metals logged losses of 3.2% for gold, 6.8% for silver prices, 5.9% for platinum and 5.6% for palladium prices.
U.S. Mint Bullion Coin Sales in October
Sales levels jumped for U.S. Mint bullion coins on Wednesday, helping to lift the month to one of the better ones of the year. October sales for U.S. Mint bullion products have not been officially closed, although the totals are not likely to change. As they stand now:
American Eagle silver coins in October are at 3.135 million, which is lower than the 3.255 million sold in September but higher than the previous seven months in 2012.

American Eagle gold coin sales for October are at 59,000 ounces, which is down from the 68,500 ounces from September but higher than five other months from this year.

American Buffalo gold coins hit 11,000 ounces, the highest monthly total since 26,000 moved in March.

22,100 America the Beautiful 5 Ounce Silver Coins were sold in October, the highest monthly total in 2012. Nearly half of the current October sales total is from Wednesday.
The following table provides the most recent daily, October and year-to-date bullion sales figures as published by the U.S. Mint.
Sales of US Mint American Eagle and Buffalo Bullion Coins
Daily Sales
October Sales
YTD 2012
$50 American Eagle Gold Coins
9,500
54,000
464,500
$25 American Eagle Gold Coins
1,000
2,000
63,000
$10 American Eagle Gold Coins
0
4,000
66,000
$5 American Eagle Gold Coins
5,000
30,000
280,000
$50 American Buffalo Gold Coins
1,000
11,000
107,500
American Eagle Silver Coins
569,000
3,153,000
28,948,000
Sales of America the Beautiful 5 Oz. Silver Bullion Coins
Daily Sales
October Sales
All-Time Total
2012 El Yunque National Forest 5 oz. Silver Bullion Coins
200
200
18,100
2012 Chaco Culture National Historical Park 5 oz. Silver Bullion Coins
0
1,000
18,200
2012 Acadia National Park 5 oz. Silver Bullion Coins
1,300
3,800
21,800
2012 Hawai'i Volcanoes 5 oz. Silver Bullion Coins
1,300
4,600
15,000
2012 Denali National Park 5 oz. Silver Bullion Coins
7,000
12,500
12,500
2011 Olympic National Park 5 oz. Silver Bullion Coins
0
0
85,900
2011 Vicksburg National Military Park 5 oz. Silver Bullion Coins
0
0
39,500
2011 Chickasaw Park 5 oz. Silver Bullion Coins
0
0
29,700
TOTAL
9,800
22,100
240,700