The demand for precious metals hasn't been as strong in the United States since the Gold Rush of 1849, but nowadays the "prospecting" is done at auction, and the treasures are purchased in the form of gold and silver coins.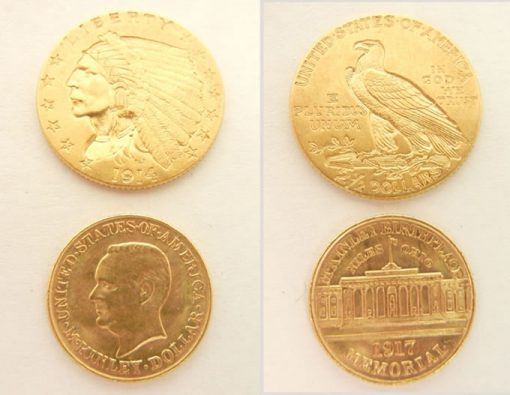 Estate specialist Stephenson's Auctioneers (www.stephensonsauction.com), located in the Philadelphia suburb of Southampton, has a history of successful, well-attended coin sales, and owner Cindy Stephenson is expecting another full house on Friday, Nov. 2nd.
"We have three excellent consignments anchoring our coin sale — two are estates and one is a collection from a man in the Poconos who has been collecting since he was a boy. We've found that coin buyers really enjoy looking through estate collections or long-held single-owner collections. There's always something unexpected to be found," said Stephenson.
More than 200 lots will be auctioned, and there may be some nice last-minute surprises, since coins are still being cataloged. Bidding will be reserved exclusively for those attending in the gallery, absentee bidders, and those participating by phone as the sale takes place. There will be no Internet bidding.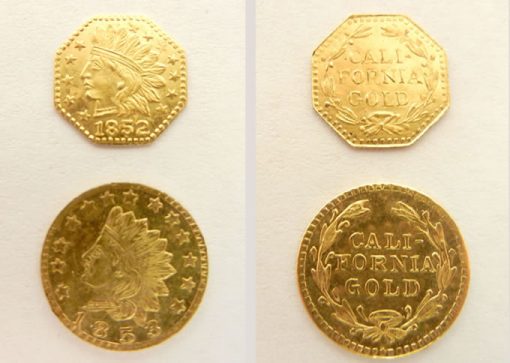 A wealth of Morgan silver dollars will be offered, with no fewer than 15 lots comprised of three Morgans each. An uncirculated 1882 Carson City Morgan silver dollar is one of the highlights, and another early example is a trade silver dollar dated 1877. Other antique American coins include Capped Bust half dollars from 1809 and 1838; an 1806 Draped Bust half dollar, and a Seated Liberty half dollar from 1843.
There's sure to be strong competition for two gold pieces, in particular. One is a 2½ dollar Indian Head gold coin minted in 1914; while the other is a 1917 $1 gold coin commemorating the slain US President William McKinley.
There are many collectors' books of coins, including a Washington quarter book (1932-1945) with 24 silver quarters, a Liberty Head nickel book (1883-1912) with 25 nickels, a Standing Liberty book with 10 silver half dollars, a Mercury dime book with 74 silver dimes, including 1921 and 1921-D; and a book consisting of 60 Buffalo nickels. Also included are a Walking Liberty half dollar book with 14 half dollars, a Barber dime book, Roosevelt dime book and Kennedy half dollar book with 59 Kennedy halves, including three 1964 and nine 1965 through 1970 coins. Flying Eagle and Indian Head penny sets will be available, as well as many other books, too numerous to mention.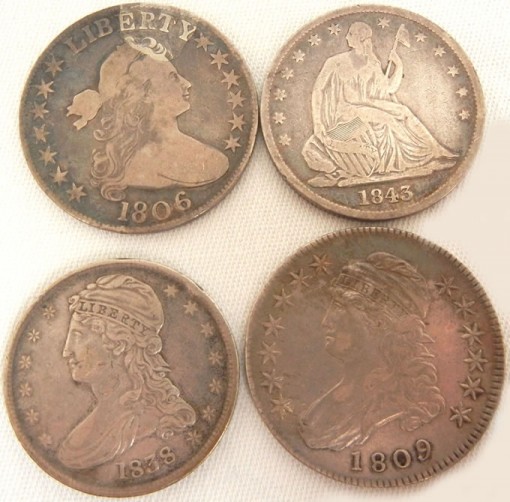 Desirable non-monetary gold and silver items with both intrinsic and historical value include a boxed set of three 24K gold over .999 silver ingots commemorating the 1973 Triple Crown Winner Secretariat, and a framed sterling silver set titled "The Official Bicentennial Medals of the Thirteen Original States."
Other lots of interest include two California Gold tokens (1852 and 1853) and an 1860 $5 note issued by the Miners and Planters Bank of North Carolina. Fractional currency, US Prestige and Olympic Prestige sets round out the Nov. 2 numismatic selection.
Stephenson's Friday, Nov. 2, 2012 Coin Auction will be held at the company's gallery located at 1005 Industrial Blvd., Southampton, PA 18966. Start time: 4 p.m. Eastern. Preview: 2-4 p.m. on auction day.
There will be no Internet bidding for this sale; it is exclusively for gallery, phone and absentee bidders. Visit Stephenson's online at www.stephensonsauction.com.