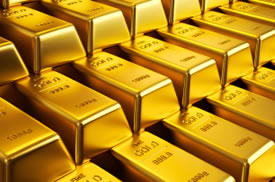 Gold and silver prices climbed modestly Wednesday, snapping a three-session losing streak. The precious metals through most of the day battled against a stronger U.S. dollar, which tends to repel bullion investors.
Gold for December delivery edged 10.0 cents higher to settle at $1,765.10 an ounce on the Comex in New York. Prices traded from an intraday low of $1,758.50 to a high of $1,770.00.
A lack of bullish driving news was brought to attention for the lackluster day.
"Additional monetary policy easing in the United States and other countries is no longer fresh news, and so we do not anticipate further significant buying of gold based on monetary policy accommodation alone," Reuters quoted James Steel, HSBC's metal analyst.
Analysts at Commerzbank seem a bit more upbeat.
MarketWatch notes that they are not expecting any extended decline for the yellow metal, "as this should be precluded in particular by continued inflows into the gold" exchange-traded funds, according to the analysts. "Over the past two days, ETF holdings have risen by a further 13 tons, 191 tons of gold having flowed into ETFs since the end of July," Commerzbank analysts added.
In other New York bullion prices on Wednesday:
Silver prices for December delivery added 12.4 cents, or 0.4%, to $34.109 an ounce, trading between $33.745 and $34.190.

Platinum for January delivery settled at $1,678.50 an ounce, falling $16.80 or 1.0%. Platinum ranged from $1,667.20 to $1,694.10.

Palladium for December delivery fell $8.30, or 1.3%, to $649.90 an ounce, trading between $647.40 and $658.20.
London Precious Metals
London bullion prices moved lower in tandem. When comparing the latest London PM Fix prices:
Gold declined $12.75, or 0.7%, to $1,761.25 an ounce,
Silver prices shed 8.0 cents, or 0.2%, to $33.79 an ounce,
Platinum lost $24.00, or 1.4%, to $1,671.00 an ounce, and
Palladium fell $10.00, or 1.5%, to $650.00 an ounce
U.S. Mint Bullion Coin Sales for October and YTD
Sales levels for U.S. Mint bullion coins were again unchanged Wednesday. The last movement occurred on Friday. The following table provides the most recent daily, October and year-to-date bullion sales figures as provided by the U.S. Mint.
Sales of US Mint American Eagle and Buffalo Bullion Coins
Daily Sales
October Sales
YTD 2012
$50 American Eagle Gold Coins
0
7,500
418,000
$25 American Eagle Gold Coins
0
0
61,000
$10 American Eagle Gold Coins
0
0
62,000
$5 American Eagle Gold Coins
0
10,000
260,000
$50 American Buffalo Gold Coins
0
2,500
99,000
American Eagle Silver Coins
0
1,233,000
27,028,000
Sales of America the Beautiful 5 Oz. Silver Bullion Coins
Daily/October Sales
All-Time Total
2012 El Yunque National Forest 5 oz. Silver Bullion Coins
0
17,900
2012 Chaco Culture National Historical Park 5 oz. Silver Bullion Coins
0
17,200
2012 Acadia National Park 5 oz. Silver Bullion Coins
0
18,000
2012 Hawai'i Volcanoes 5 oz. Silver Bullion Coins
0
10,400
2011 Olympic National Park 5 oz. Silver Bullion Coins
0
85,900
2011 Vicksburg National Military Park 5 oz. Silver Bullion Coins
0
39,500
2011 Chickasaw Park 5 oz. Silver Bullion Coins
0
29,700
TOTAL
0
218,600