Now available is the fourth 2012 collector version of the U.S. Mint's five ounce silver pieces, the 2012-P Hawai'i Volcanoes National Park Five Ounce Silver Uncirculated Coin.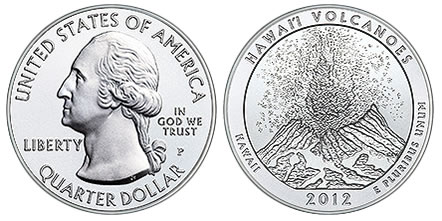 It was released on September 24 at noon Eastern Time for $204.95, the same as earlier issues this year.
Uncirculated Coin Specifications and Designs
The United States Mint strikes every America the Beautiful Five-Ounce Silver Uncirculated Coin™ in 99.9% fine silver to a weight of five troy ounces. Prices for them can change if their melt values get too close to their sale price, a situation that appeared more likely in recent weeks as silver has taken off. Today, however, London silver plunged by nearly $1 to $33.73 an ounce. That means each uncirculated coin has a $36.30 premium.
This latest three-inch diameter piece represents the national park on the big island of Hawaii and features designs that are identical to the ones appearing on circulating quarters released last month.
On the reverse is a depiction of a massive eruption of lava spewing from the east rift of Kilauea Volcano. The obverse features a portrait of George Washington, the first President of the United States. The "P" mint mark of the mint facility in Philadelphia, PA is beside the QUARTER DOLLAR inscription.
Mintage and Sales Expectations
Mintages of the Hawai'i silver coin are being kept to a maximum of 25,000 and there are no household ordering limits. Coins dated 2010 sold out at 27,000 orders but the 2011 offerings, with maximums of 35,000, are still available.
When previous 2012-dated strikes in the series launched, more than 6,000 sold in the first week. Generally sales taper off over time. Lately, demand for them has improved as the market price of silver has gained.
Provided in the grid below is the latest sales for the 2011-2012 America the Beautiful Five Ounce Silver Uncirculated Coins and the sites or parks they commemorate. The "as of date" for these sales is September 17, 2012.
| Year | 5 Oz Silver Uncirculated Coin | Latest Sales |
| --- | --- | --- |
| 2011 | Gettysburg National Military Park, PA | 23,419 |
| 2011 | Glacier National Park, MT | 19,564 |
| 2011 | Olympic National Park, WA | 17,139 |
| 2011 | Vicksburg National Military Park, MS | 17,276 |
| 2011 | Chickasaw National Recreation Area, OK | 15,545 |
| 2012 | El Yunque National Forest, PR | 13,580 |
| 2012 | Chaco Culture National Historical Park, NM | 10,718 |
| 2012 | Acadia National Park, ME | 10,160 |
| 2012 | Hawai'i Volcanoes National Park, HI | – |
| 2012 | Denali National Park and Preserve, AK | – |
2012-P Hawai'i Volcanoes Silver Coin Ordering Details
Purchases of the 2012-P Hawai'i Volcanoes National Park Five Ounce Silver Uncirculated Coin can be made at the U.S. Mint's website, located here, and also by phone at 1-800-USA-MINT (872-6468). As always, domestic orders will be charged $4.95 for shipping and handling.
Packaging includes a clear capsule to protect the uncirculated quality finish, and a sturdy black on black case for presentation. Also enclosed with the coin is a Certificate of Authenticity from the Mint.