The Royal Canadian Mint has unveiled the sixth commemorative coin in the extremely popular Exchange $20 for $20 series, the $20 Magical Reindeer Silver Coin. It may be ordered today, and it will ship by mid-November.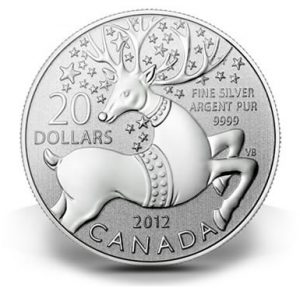 The release coincides near the holidays for a good reason. The design on the reverse features the image of a reindeer — a creature that has long been associated with the season.
Like its predecessors, this coin is struck from 99.99% pure silver. Each bears a legal tender face value of $20 and is sold to the public for $20, thus leading to the name of the series.
Design of $20 Magical Reindeer Silver Coin
Renowned Canadian artist Virginia Boulay designed the image of the reindeer found on the reverse of the silver coin. It shows the creature adorned for the season and almost appearing as if in flight. A field of stars can be seen behind the reindeer's antlers.
Reverse inscriptions include 20 DOLLARS, FINE SILVER, ARGENT PUR, 9999, 2012 and CANADA. The initials of VB are also found on the reverse representing the artist.
Struck as legal tender of Canada, the obverse of the coin contains the Susanna Blunt effigy of Queen Elizabeth II. Obverse inscriptions include ELIZABETH II and D.G. REGINA.
Each silver coin weighs 7.96 g, or slightly more than one-fourth ounce. They have serrated edges and a diameter of 27 mm.
The Royal Canadian Mint ships each encapsulated coin in a clear vinyl pouch along with a non-serialized certificate.
$20 for $20 Mintages
The Royal Canadian Mint has indicated a mintage limit for the Magical Reindeer silver coin at 250,000. This matches previous releases in the series, with the exception of the first coin that was limited to 200,000.
All prior coins sold out in short order despite strict household limits. Several were not available for more than a month.
Previous $20 Silver Coin Issues
Five Exchange $20 for $20 coins have been issued by the Royal Canadian Mint previous to this new Magical Reindeer coin. Those five are listed below in their release order:
Order from Royal Canadian Mint
Orders for the commemorative Magical Reindeer Silver Coin may be placed via the Royal Canadian Mint's website at www.mint.ca for $20 CAD each plus shipping and handling.