Starting today, September 18, 2012, collectors can order the Benjamin Harrison Presidential $1 Coin Cover from the United States Mint for $19.95.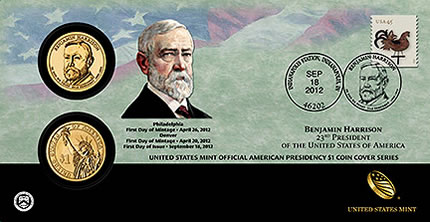 Featured within the coin cover are two Benjamin Harrison dollars from the first day of minting, one from the U.S. Mint facility in Denver on April 20, 2012 and the other from the U.S. Mint facility in Philadelphia on April 26, 2012. Each is circulation quality, similar to those found in the rolls, bags and boxes of Benjamin Harrison Presidential $1 Coins that the Mint launched on August 16, 2012.
The two early strikes are packaged on a hard, illustrated display card inside an envelope with one of five 45-cent WeatherVanes First-Class Mail stamps and a postmark of "September 18, 2012, Indianapolis, IN."
Coin covers used to have a postmark date of when the dollars launched into circulation. Since $1 coins are now struck only for coin collectors, postmark dates have changes. The latest September 18 postmark simply marks the cover's release date, while Indianapolis was where Benjamin Harrison lived during most of his years in law and politics. As for the stamp, the U.S. Postal Service issued a five design series in 2012 showcasing photographs of 19th century weather vanes made in the U.S.
Presidential $1 Coin Designs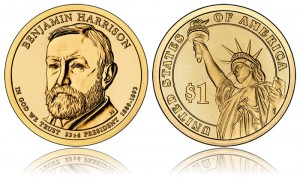 The Benjamin Harrison dollars' obverses display a portrait of him. It was designed and sculpted by Phebe Hemphill. Encircling the image are the inscriptions, "BENJAMIN HARRISON," "IN GOD WE TRUST," "23rd PRESIDENT" and the years of his service, "1889-1893."
Edge lettering on the dollars are the mint mark, "E PLURIBUS UNUM" and "2012."
Every Presidential $1 Coin portrays Don Everhart's rendition of the Statue of Liberty on the reverse with inscriptions of "$1" and "UNITED STATES OF AMERICA."
Order Coin Cover from U.S. Mint
Benjamin Harrison's Presidential $1 Coin Cover is the 23rd in the American Presidency $1 Coin Cover Series. It does not have any order restrictions, but like other 2012 issues, it is limited to a maximum production run of 22,000 units.
Orders may be placed directly at the U.S. Mint website for the Benjamin Harrison Presidential $1 Coin Cover, as well as for other 2009-2012 dated issues, found here:
United States Mint Product page
A toll-free phone number for Customer Service at the Mint, at 1-800-USA-MINT (872-6468), is another way to place orders. A $4.95 shipping and handling charge applies to all domestic orders.
As mentioned earlier, the U.S. Mint also sells circulation quality Harrison dollars in specially wrapped 25-coin rolls, 100-coin bags, and boxes of 250 and 500 coins. Buyers have the choice of strikes from either Denver or Philadelphia. Prices are:
$32.95 each for 25-coin rolls
$111.95 each for $100-coin bags
$275.95 each for 250-coin boxes
$550.95 each for 500-coin boxes
Note: An additional shipping and handling fee due to weight applies to the 500-coin box.
Previous U.S. Mint Presidential $1 Coin Product Releases
Four former Presidents are honored each year per the Presidential $1 Coin Act that authorizes the United States Mint to strike the dollars. George Washington, John Adams, Thomas Jefferson and James Madison were the first Presidents to debut on the Presidential $1 Coins when the series began in 2007.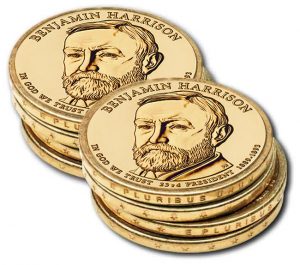 They were followed in 2008 with coins honoring James Monroe, John Quincy Adams, Andrew Jackson and Martin Van Buren.
2009 dated issues celebrated William Henry Harrison, John Tyler, James K. Polk and Zachary Taylor. Images of Millard Fillmore, Franklin Pierce, James Buchanan, and Abraham Lincoln were highlighted in 2010. Then, in 2011, the dollars recognized Andrew Johnson, Ulysses S. Grant, Rutherford B. Hayes and James Garfield.
2012 Presidential $1 coins featured Chester A. Arthur, Grover Cleveland's first term, and Benjamin Harrison. One more strike, celebrating Grover Cleveland's second term is due to launch later this year.
Benjamin Harrison: 23rd President, 23rd in Presidential $1 Coin Series
Benjamin Harrison, the 23rd President, was a descendent of a political family. His father, John Scott Harrison, served in the U.S. House of Representatives while Benjamin was a young adult, and his grandfather was William Henry Harrison, the 9th President of the United States. Benjamin's great-grandfather, Benjamin Harrison V, was elected to the Continental Congress of 1774, thus a signer of the Declaration of Independence, and later became Governor of Virginia.
Benjamin Harrison was born in 1833 on a farm in North Bend, Ohio. He graduated in 1852 as an honor student at Miami University in Oxford, Ohio, which is where he met his wife, Caroline Lavinia Scott Harrison. (First Spouse Gold Coins honoring Caroline Harrison will be released by the U.S. Mint later this year.) They married in 1853 and moved to Cincinnati. He joined a law office there before starting his own law practice in Indianapolis, IN, in 1854.
By 1857, Harrison was elected to the City Attorney position and followed that up in 1860 by becoming a Supreme Court reporter. The Civil War changed the lives of many, including Harrison's. By the time it was over, he was a Union Colonel of the 70th Volunteer Infantry of Indiana. After returning from the war, he carried on a successful career as a lawyer in Indianapolis and tried 15 cases before the U.S. Supreme Court.
Between 1881 and 1887, Harrison served as Indiana's Senator. He beat incumbent President Cleveland in the Presidential election of 1888 with his "front-porch" campaigns. Harrison served in the White House from 1889 to 1893, but he lost to Cleveland when he ran for reelection in 1892.
Some of his accomplishments included initiating the first Pan American Conference in 1889 that later resulted in the Pan American Union, expanding the Navy, and signing the Sherman Anti-Trust Act which limits business practices that could reduce competition and lead to monopolies.