In recognition of Arnold Palmer and his Congressional Gold Medal, the United States Mint has made available replica bronze versions of the medal for sale to the public. The U.S. Mint lists these bronze duplicates at $39.95 for the 3" medal and $6.95 for the 1.5" medal.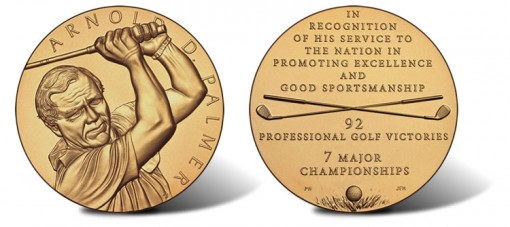 An award ceremony took place on Wednesday, September 12, 2012 in the Rotunda of the U.S. Capitol. Arnold Palmer was recognized for "his service to the Nation in promoting excellence and good sportsmanship in golf," per Public Law 111-65 that authorized the award.
Some of Palmer's accomplishments include 92 championships in his professional golf career by the end of 1993, the United States Navy Memorial Lone Sailor Award and 20 years of serving as the Honorary National Chairman of the March of Dimes Birth Defects Foundation.
House Speaker John Boehner presented Palmer with the Congressional Gold Medal along with House Minority Leader Nancy Pelosi and Senate Majority Leader Harry Reid. It is one of the Nation's highest civilian awards.
Featured on the obverse of the Arnold Palmer Congressional Gold Medal and bronze reproductions is a depiction of Palmer in action as he finishes his golf swing. Surrounding part of the image is his name, "ARNOLD D. PALMER." It was designed and sculpted by Don Everhart.
A pair of crossed golf clubs and a golf ball on a tee are shown on the reverse. Inscriptions include, "IN RECOGNITION OF HIS SERVICE TO THE NATION IN PROMOTING EXCELLENCE AND GOOD SPORTSMANSHIP, 92 PROFESSIONAL GOLF VICTORIES and 7 MAJOR CHAMPIONSHIPS." Designing the reverse was Phebe Hemphill with sculpting done by Joseph Menna.
Orders for Arnold Palmer Bronze Medals may be placed on the United States Mint online store, located here, or by calling toll-free at 1-800-USA-MINT (872-6468).