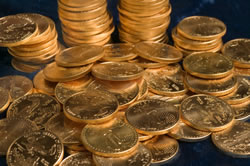 Gold rallied to a more than six-month high at above $1,740 an ounce after Friday's disappointing U.S. jobs report fueled Fed stimulus bets. Jumping 2.0% on the day, gold prices spurred ahead 3.1% on the week.
"Gold is going through the roof because this negative data makes QE3 more likely now," Reuters quoted Daniel Briesemann, commodities analyst at Commerzbank in Frankfurt.
The U.S. Labor Department said 96,000 jobs were created in August while also revising downward June and July data to show 41,000 fewer jobs than previously reported. July's revised figure was 141,000, which is less than spectacular itself.
"It's a disappointing report across the board and it puts the Fed in the driver's seat for additional quantitative easing," Bloomberg quoted Chad Morganlander, a Florham Park, New Jersey- based fund manager at Stifel Nicolaus & Co., which oversees about $120 billion of assets.

"It's not a negative number, but there is very little vibrancy to the report and the trend is dismal. It lacks the get-up-and-go that we need to get the economy moving again."
Following news of the dismal employment picture, gold prices for December delivery surged $34.90 to $1,740.50 an ounce on the Comex in New York. The settlement price was the highest for the metal since its closing at $1,788.40 an ounce on February 28. Gold traded from an intraday low of $1,691.30 to a high of $1,745.40.
Gold Prices Expected to Extend Gains Next Week
Many traders, analysts and bullion dealers are bullish for gold prices next week, based on weekly gold surveys.
"In the Kitco News Gold Survey, out of 33 participants, 29 responded this week. Of those 29 participants, 22 see prices up, while four see prices down, and three are neutral or see prices moving sideways," reports Kitco News.

"Sean Lusk, gold and precious metals analyst at Iron Beam, said: 'if some form of stimulus is announced gold could trade up to or even surpass yearly highs up at $1,800… However the market will need to hear it from Bernanke's mouth for obvious verification.'

Those who see weaker prices said that gold is due for a correction after such a stout rally this week, especially if the Fed opts not act at the FOMC meeting."
Bloomberg's weekly gold survey was just as bullish with 21 participants expecting higher prices, 7 bearish and 3 neutral.
Gold is the third best performing precious metal this year with its 11.1% increase.
Silver, Platinum and Palladium Futures
Other New York precious metals futures tracked gold, logging weekly gains of 7.1% for silver, 3.8% for platinum and 4.0% for palladium. As for Friday:
Silver prices for December delivery rallied $1.02, or 3.1%, to settle at $33.690 an ounce. Silver ranged between intraday prices of $32.005 and $33.775.

Platinum for October delivery added $9.90, or 0.6%, to $1,596.30 an ounce. The metal bracketed intraday levels of $1,561.70 and $1,606.50.

Palladium for December delivery advanced $7.00, or 1.1%, to $654.75 an ounce, trading between $640.05 and $656.60.
For 2012, silver leads metals with its pick-up of 20.7%. Platinum follows at 13.6%. Palladium remains in the red with a modest loss of 0.2%.
London Precious Metals
Precious metals in London were mixed Friday, with fixings coming in before the jobs data in the U.S. was digested. When comparing London PM Fix prices:
Gold added $27.00, or 1.6%, to $1,728.00 an ounce,
Silver shed 65.0 cents, or 2.0%, to $32.22 an ounce,
Platinum climbed $15.00, or 1.0%, to $1,593.00 an ounce, and
Palladium tacked on $3.00, or 0.5%, to $647.00 an ounce
On the week, London precious metals registered gains of 4.8% for gold, 5.6% for silver, 5.0% for platinum and 3.9% for palladium.
U.S. Mint Bullion Coins
Demand for U.S. Mint bullion coins remains strong, but sales levels were lower than the previous week.
Bullion gold coins totaled 12,000 ounces versus the previous week's 18,000 ounces. 22-karat American Gold Eagles were again most sought with 10,500 ordered. 24-karat American Gold Buffalo coins totaled 1,500 ounces.

Sales of bullion silver coins combined to 679,000 ounces compared to the prior week's 809,000 ounces. All of the total came from sales of 99.9% pure American Silver Eagles. Following strong showings in August, America the Beautiful 5 Ounce Silver Bullion Coins have yet to enter the sales boards for September.
The following grid offers the latest daily, September and year-to-date bullion sales as published by the United States Mint.
Sales of US Mint American Eagle and Buffalo Bullion Coins
Daily Gains
Prior Weekly
Weekly/Sept. Gains
YTD 2012
$50 American Gold Eagle Coins
4,000
13,000
10,000
357,500
$25 American Gold Eagle Coins
0
2,000
0
59,000
$10 American Gold Eagle Coins
0
4,000
0
58,000
$5 American Gold Eagle Coins
0
5,000
5,000
220,000
$50 American Buffalo Gold Coins
1,000
2,500
1,500
89,500
American Silver Eagle Coins
279,000
749,000
679,000
23,219,000
Sales of America the Beautiful 5 Oz. Silver Bullion Coins
Daily Gains
Prior Weekly
Weekly/Sept. Gains
All-Time Total
2012 El Yunque National Forest 5 oz. Silver Coins
0
2,900
0
16,700
2012 Chaco Culture National Historical Park 5 oz. Silver Coins
0
8,500
0
17,000
2012 Acadia National Park 5 oz. Silver Coins
0
0
0
15,100
2011 Olympic National Park 5 oz. Silver Coins
0
100
0
85,900
2011 Vicksburg National Military Park 5 oz. Silver Coins
0
300
0
39,500
2011 Chickasaw Park 5 oz. Silver Coins
0
200
0
29,700
TOTAL
0
12,000
0
203,900
All sales figures above are in the number of coins sold, not the amount of ounces sold.
As a reminder, the Perth Mint of Australia has announced release dates and designs for its 2013 silver bullion coins and 2013 gold bullion coins.