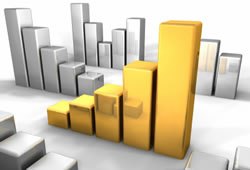 Gold briefly topped $1,700 an ounce on Tuesday, extending gains that began Friday after Fed Chairman Ben Bernanke buoyed hopes for further monetary easing.
Gold for December delivery added $8.40, or 0.5%, to $1,696.00 an ounce on the Comex in New York. It was the highest settlement price for the yellow metal since March 12. Gold traded between an intraday low of $1,687.60 and a high of $1,701.60.
Gold prices first pushed over the $1,700 an ounce mark after a U.S. report showed manufacturing shrank for a third straight month in August. The factory index dropped more than expected to 49.6 last month from 49.8 in July.
"Bad economic news is good for gold," Pratik Sharma, a fund manager at Miami-based Atyant Capital, said in a telephone interview that was relayed on Bloomberg. "People are getting additional confirmation that central banks are ready to unleash more stimulus measures."
In other New York precious metals:
Silver prices for December delivery surged 96.9 cents, or 3.1%, to settle at $32.411 an ounce. Silver traded between intraday levels of $31.575 and $32.470.

Platinum for October delivery closed at $1,567.50 an ounce, gaining $30.20 or 2.0%. Platinum ranged from $1,537.90 to $1,569.00.

Palladium for December delivery added $12.05, or 1.9%, to $641.45 an ounce, trading between $628.20 and $642.80.
Precious metals rallied last month with gains of 4.5% for gold, 12.6% for silver, 8.5% for platinum and 6.6% for palladium.
London Precious Metals
Precious metals in London were higher as well. In contrasting London PM Fix prices:
Gold added $5.50, or 0.3%, to $1,697.00 an ounce,
Silver rose 34.0 cents, or 1.1%, to $32.08 an ounce,
Platinum advanced $11.00, or 0.7%, to $1,554.00 an ounce, and
Palladium added $9.00, or 1.4%, to $638.00 an ounce
In August, London precious metals climbed 1.6% for gold, 8.2% for silver, 6.3% for platinum and 5.4% for palladium.
U.S. Mint Bullion Coins
Sales advanced Tuesday for the U.S. Mint's most popular bullion products. The following grid offers daily, September and year-to-date bullion sales as published by the United States Mint.
Sales of US Mint American Eagle and Buffalo Bullion Coins
Daily Gains
September Gains
YTD 2012
$50 American Eagle Gold Coins
1,500
1,500
349,000
$25 American Eagle Gold Coins
0
0
59,000
$10 American Eagle Gold Coins
0
0
58,000
$5 American Eagle Gold Coins
5,000
5,000
220,000
$50 American Buffalo Gold Coins
500
500
88,500
American Silver Eagle Coins
250,000
250,000
22,790,000
Sales of America the Beautiful 5 Oz. Silver Bullion Coins
Daily Gains
September Gains
All-Time Total
2012 El Yunque National Forest 5 oz. Silver Coins
0
0
16,700
2012 Chaco Culture National Historical Park 5 oz. Silver Coins
0
0
17,000
2012 Acadia National Park 5 oz. Silver Coins
0
0
15,100
2011 Olympic National Park 5 oz. Silver Coins
0
0
85,900
2011 Vicksburg National Military Park 5 oz. Silver Coins
0
0
39,500
2011 Chickasaw Park 5 oz. Silver Coins
0
0
29,700
TOTAL
0
0
203,900
All sales figures above are in the number of coins sold, not the amount of ounces sold.
In other world bullion coin news, the Perth Mint of Australia has announced designs and release dates for its 2013-dated Kangaroo gold, Year of the Snake, and Koala silver bullion coins.