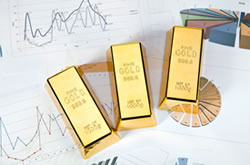 Precious metals rallied Friday to secure lofty August gains that settled to 4.5% for gold, 12.6% for silver, 8.5% for platinum and 6.6% for palladium.
Gold prices closed to a more than five-month high and near $1,690 an ounce while silver surged $1 to a more than four-month high above $31 an ounce.
Precious metals for much of August gyrated to stimulus-related news. Friday was a tipping point when U.S. stocks and commodities initially dipped following a speech by Fed Chairman Ben Bernanke in Jackson Hole, Wyoming. Markets then rebounded as his remarks were bullishly digested with stimulus bets heightened.
"The stagnation of the labor market in particular is a grave concern not only because of the enormous suffering and waste of human talent it entails, but also because persistently high levels of unemployment will wreak structural damage on our economy that could last for many years," Bernanke said Friday at the annual meeting of central bankers.
Gold for December delivery advanced $30.50, or 1.8%, to $1,687.60 an ounce on the Comex in New York. Gold peaked at $1,691.80. The settlement price was the highest for gold since its closing of $1,694.20 an ounce on March 13.
"The main catalyst for the reversal in gold has been that Bernanke used the words 'grave concern' and the interpretation is that there's going to be more QE if he's using such a dire projection for the economy," Reuters quoted Jeffrey Sica, chief investment officer of SICA Wealth Management, which has over $1 billion in assets.
Many bullion dealers and investors are bullish for the yellow metal next week, based on Kitco's weekly gold survey.
"In the Kitco News Gold Survey, out of 33 participants, 24 responded this week. Of those 24 participants, 15 see prices up, while six see prices down, and three are neutral or see prices moving sideways," reports Kitco News.

"With the door opened to more quantitative easing just a little bit more, gold could continue to rally…

Some of those who see weaker prices said gold could encounter some profit-taking after the rally of the past two weeks."
For the week, gold climbed 0.9%. It has gained 7.7% in 2012.
Silver, Platinum and Palladium Futures
In other New York precious metals prices on Friday:
Silver prices for December delivery soared 99.6 cents, or 3.3%, to close at $31.442 an ounce — the highest settlement price since the April 21 closing of $31.651 an ounce. Silver ranged from an intraday low of $30.295 to a high of $31.590.

Platinum for October delivery settled at $1,537.30 an ounce, advancing $33.60 or 2.2%. Prices traded between $1,498.20 and $1,541.10.

Palladium for December delivery jumped $13.00, or 2.1%, to $629.40 an ounce, bracketing $604.05 and $630.00.
On a weekly basis, silver jumped 2.7% while platinum dropped 1.1% and palladium declined 3.5%. For the year, silver leads precious metals, up 12.6%, followed by a 9.4% gain in platinum. Palladium stands by itself with a 2012 loss of 4.1%.
London Precious Metals
Precious metals in London were fixed Friday before news of Bernanke's remarks settled. When comparing London PM Fix prices:
Gold prices declined $12.00, or 0.7%, to $1,648.50 an ounce for a weekly loss of 1.1%,
Silver shed 14.0 cents, or 0.5%, to $30.52 an ounce for a 0.5% pick-up this week,
Platinum dipped $5.00, or 0.3%, to $1,517.00 an ounce for a weekly loss of 1.3%, and
Palladium fell $11.00, or 1.7%, to $623.00 an ounce for a 3.1% loss this week
For August, London precious metals logged gains of 1.6% for gold, 8.2% for silver, 6.3% for platinum and 5.4% for palladium.
U.S. Mint Bullion Coins
Sales advanced Friday for American Eagle bullion coins, lifting already robust weekly figures. Improvements this week included:
Sales of bullion gold coins at 18,000 ounces compared to last week's 14,500 ounces. 22-karat American Gold Eagles were hot with 15,500 ordered by U.S. Mint distributors. 24-karat American Gold Buffalo coins came in at 2,500 ounces.

Sales of bullion silver coins totaled 809,000 ounces versus the previous week's 563,500 ounces. Demand over the last two week's has been exceptionally strong for America the Beautiful 5 Ounce Silver Coins. Buyers grabbed 12,000 this week and 5,200 last week. It has been quite common this year for none or very few to sell in a week.
August bullion sales figures have not been officially closed by the U.S. Mint, but the totals shown further below are likely to remain unchanged. As they stand now:
American Gold Eagle and American Gold Buffalo sales in August are the highest since June,
American Silver Eagle sales this month are the strongest since May, and
America the Beautiful 5 Ounce Silver Coin sales in August are the best of the year
The following grid offers daily, weekly, August and year-to-date bullion sales as published by the United States Mint.
Sales of US Mint American Eagle and Buffalo Bullion Coins
Daily Gains
Prior Weekly
Weekly Gains
August Gains
YTD 2012
$50 American Eagle Gold Coins
5,000
9,500
13,000
34,000
347,500
$25 American Eagle Gold Coins
0
1,000
2,000
3,000
59,000
$10 American Eagle Gold Coins
0
0
4,000
4,000
58,000
$5 American Eagle Gold Coins
5,000
15,000
5,000
25,000
215,000
$50 American Buffalo Gold Coins
0
3,000
2,500
9,000
88,000
American Silver Eagle Coins
295,000
537,500
749,000
2,870,000
22,540,000
Sales of America the Beautiful 5 Oz. Silver Bullion Coins
Daily Gains
Prior Weekly
Weekly Gains
August Gains
All-Time Total
2012 El Yunque National Forest 5 oz. Silver Coins
0
100
2,900
3,500
16,700
2012 Chaco Culture National Historical Park 5 oz. Silver Coins
0
500
8,500
9,600
17,000
2012 Acadia National Park 5 oz. Silver Coins
0
4,100
0
5,200
15,100
2011 Olympic National Park 5 oz. Silver Coins
0
300
100
400
85,900
2011 Vicksburg National Military Park 5 oz. Silver Coins
0
100
300
400
39,500
2011 Chickasaw Park 5 oz. Silver Coins
0
100
200
300
29,700
TOTAL
0
5,200
12,000
19,400
203,900
All sales figures above are in the number of coins sold, not the amount of ounces sold.
In other world bullion coin news, the Perth Mint of Australia has announced designs and release dates for its 2013-dated Kangaroo gold, Year of the Snake, and Koala silver bullion coins.