The next issues in the Australian Lunar Series II, the 2013 Year of the Snake Silver Bullion Coins, were revealed by The Perth Mint this week. The coins celebrate the sixth animal in the 12-year cycle of the Chinese zodiac. The coins' launch date is September 3, 2012.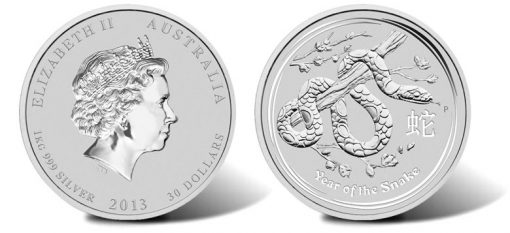 Struck in 99.9% pure silver, these bullion coins are being offered in seven sizes with all but two produced in amounts to meet demand.
Sizes include a 10 kilo, 1 kilo, 10 ounce, 5 ounce, 2 ounce, 1 ounce, and a one-half ounce. The 10 kilo coin will be limited to 200 and the popular 1 ounce size will be limited to 300,000.
These coins feature a design of a snake curled around a tree branch. Next to it is the Chinese character for "Snake" and the inscription, "Year of the Snake." The Perth Mint's traditional "P" mint mark is also shown beside the reverse design.
Since the coins are issued as legal tender under the Australian Currency Act of 1965, the familiar Ian Rank-Broadley effigy of Her Majesty Queen Elizabeth II graces the obverse. Inscriptions include "2013" and the denomination of the coin.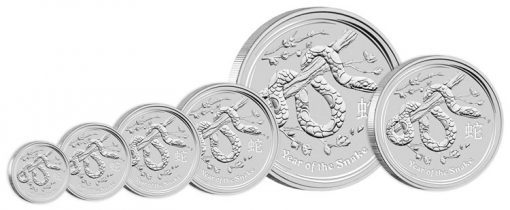 The table below shows which sizes correspond to the seven different denominations.
Specifications for 2012 Year of the Snake Silver Bullion Coins
Size
Troy oz
Denomination (AUD)
Max. Diameter
Max. Thickness
Mintage Limit
10 kilo
321.510
$300
221.00
33.00
200
1 kilo
32.151
$30
100.60
14.60
unlimited
10 oz
10
$10
85.60
6.60
unlimited
5 oz
5
$8
65.60
5.80
unlimited
2 oz
2
$2
55.60
3.60
unlimited
1 oz
1
$1
45.60
2.60
300,000
1/2 oz
0.5
$0.50
36.60
2.30
unlimited
Year of the Snake applies to 2013, 2001, 1989, 1977, 1965, 1953, 1941, 1929, 1917, and 1905. People born in these years are said to be intelligent, graceful, independent, analytical, and charming.
Buyers may purchase the 2013 Year of the Snake Silver Bullion Coins at perthmintbullion.com and through The Perth Mint's global distribution channels. Prices typically depend on the spot price of silver plus a small premium.