On Tuesday, August 7, 2012, the Bureau of Engraving and Printing (BEP) released its latest paper money product, the limited-edition $10 Generations Currency Set.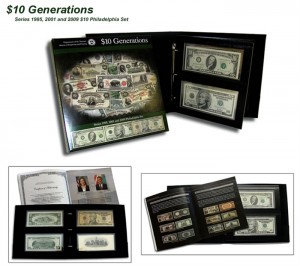 Containing three $10 notes, each has a different yet familiar design with one a Series 1995, the other a Series 2001 and the remaining one a current Series 2009. All three have a Federal Reserve Bank designation of Philadelphia with matching low serial numbers.
A complementary print is included that features Independence Hall, the building where George Washington was appointed commander in chief of the Continental Army in 1775 and the Declaration of Independence was adopted on July 4, 1776. The reverse side of the print shows the Liberty Bell. An inscription of We the People is also on the reverse.
This limited edition set comes with its own educational booklet that describes the history of the $10 note going back to 1861. The booklet, notes and print are neatly packaged for collectors in a leatherette binder, complete with clear acid-free polymer sleeves.
The $10 Generations Currency Set may be ordered online at www.moneyfactorystore.gov for $149.95 each, or purchased at booth # 104 at the ANA's 2012 World's Fair of Money® going on now in Philadelphia though Saturday, August 11.
Pricing is reduced to $135.00 for bulk orders of 10 or more. However, during the first seven days of availability, there is a household ordering limit of 25 sets. On August 14, that restriction will be eliminated.
This unique $10 Generations Currency Set has a maximum production limit of 3,333 units.
Joining the U.S. Mint, the BEP on Tuesday also released the Making American History Coin and Currency Set.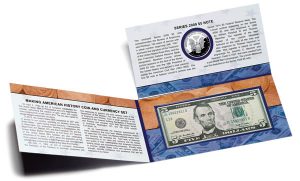 It features a $5 note with a serial number beginning with "150" to mark its 150th anniversary. The set includes one of the U.S. Mint's 2012-S Proof American Silver Eagle coins.