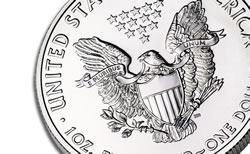 Gold retreated in its start to a new trading week, falling for the first time in three sessions. As debt woes widened for Spain and Greece, investors turned from gold and flocked to the safe-haven of choice, the U.S. dollar.
"The Europe concerns are back, and we are seeing a flight to cash," David Meger, the director of metal trading at Vision Financial Markets in Chicago, said in a telephone interview that was recounted on Bloomberg. "The stronger dollar is working against gold."
Gold prices for August delivery declined $5.40, or 0.3%, to $1,577.40 an ounce on the Comex in New York. Gold traded between an intraday low of $1,562.00 and a high of $1,582.40. Gold fell 0.6% last week.
In other New York future prices last week, losses came to 0.2% for silver, 1.4% for platinum and 1.6% for palladium. For the precious metals on Monday:
Silver prices for September delivery settled to $27.042 an ounce, dropping 26.0 cents or 1.0%. Prices moved from a low of $26.615 to high of $27.285.

Platinum prices for October delivery lost $15.60, or 1.1%, to close at $1,398.90 an ounce. Platinum traded between $1,389.00 and $1,414.50.

Palladium prices for September delivery settled down $5.15, or 0.9%, to $570.95 an ounce, ranging from $563.50 to $578.30.
London Precious Metals
Earlier fixed London precious metals were lower as well. In comparing the London PM Fix prices:
Gold dipped $4.00, or 0.3%, to $1,572.25 an ounce,
Silver fell 12.0 cents, or 0.4%, to $26.95 an ounce,
Platinum declined $15.00, or 1.1%, to $1,393.00 an ounce, and
Palladium shed $12.00, or 2.1%, to $565.00 an ounce
Last week, losses accumulated to 1.2% for gold, 1.5% for silver, 1.1% for platinum and 0.7% for palladium.
U.S. Mint Bullion Coin Sales
Sales of one-ounce, 22-karat American Gold Eagles climbed 1,000, matching the gain from last Monday which turned out to be the entire weekly sales total for U.S. Mint gold bullion coins.
Demand was higher for the bureau's silver bullion coins. Sales rose by 243,000 ounces. The level is already 74.8% of the amount purchased by U.S. Mint distributors during all of last week.
The following are the latest daily, weekly, July and year-to-date bullion coin sales totals as published by the U.S. Mint.
US Mint American Eagle and Buffalo Bullion Coin Sales
Daily Gains
July Gains
YTD 2012
$50 American Gold Eagle Coins
1,000
18,000
303,000
$25 American Gold Eagle Coins
0
0
56,000
$10 American Gold Eagle Coins
0
2,000
54,000
$5 American Gold Eagle Coins
0
0
175,000
$50 American Buffalo Gold Coins
0
1,500
76,500
American Eagle Silver Coins
240,000
1,468,000
18,860,000
America the Beautiful 5 Oz. Bullion Silver Coin Sales
Daily Gains
July Gains
All-Time Total
2012 El Yunque National Forest 5 oz. Silver Coins
200
1,700
11,600
2012 Chaco Culture National Historical Park 5 oz. Silver Coins
0
2,700
5,900
2011 Olympic National Park 5 oz. Silver Coins
0
100
85,300
2011 Vicksburg National Military Park 5 oz. Silver Coins
200
200
38,800
2011 Chickasaw Park 5 oz. Silver Coins
200
200
31,100
TOTAL
600
4,900
170,700
The above U.S. Mint bullion coin sales are in coin totals, not the amount of ounces sold.