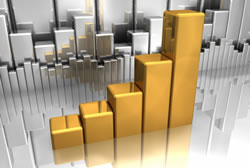 Gold advanced for a second session Friday, but three prior-day losses weighed heavier on the yellow metal as prices slipped 0.6% this week.
On Friday, gold prices for August delivery edged up $2.40, or 0.2%, to settle at $1,582.80 an ounce on the Comex in New York. Prices ranged from an intraday low of $1,572.60 to a high of $1,586.70.
Gold was pressured much of the week by gains in the U.S. dollar and disappointment over Fed Chairman Ben Bernanke's Congressional testimony as he all but closed the door on another round of stimulus.
"The main driver for gold is the strong dollar and weaker euro," MarketWatch quoted Frank Lesh, broker and futures analyst with FuturePath Trading in Chicago.

"In the big picture, the gold market is disappointed not to hear about additional [quantitative easing] this week."
There appears little consensus among market players in forecasting the direction for gold next week.
"In the Kitco News Gold Survey, out of 33 participants, 22 responded this week. Of those 22 participants, 10 see prices up, while six see prices down, and six are neutral," reports Kitco News.

"Participants who see higher prices said the market is holding $1,550 and they anticipate some sort of quantitative easing will eventually appear to support gold prices. Also, strength in other commodity markets is stoking some inflation talk…

Others who are bearish also said the market 'feels heavy' at current levels and could test the downside…"
Bloomberg's weekly survey was evenly split, with 10 participants bullish and 10 expecting little change. Six were bearish.
Silver, Platinum and Palladium Futures
In other New York precious metals futures prices on Friday, silver tracked gold while platinum and palladium retreated.
Silver prices for September delivery inched up 8.5 cents, or 0.3%, to close at $27.302 an ounce. Silver traded between intraday levels of $26.74 and $27.40.

Platinum prices for October delivery settled at $1,414.50 an ounce, falling $8.60 or 0.6%. The PGM metal ranged from $1,407.50 to $1,422.00.

Palladium prices for September delivery lost $8.75, or 1.5%, to $576.10 an ounce, trading between $575.40 and $584.50.
Each of the metals logged weekly losses. Amounts were 0.2% for silver, 1.4% for platinum and 1.6% for palladium.
London Precious Metals
Precious metals prices in London were lower across the board as well. When comparing the latest London PM fixings:
Gold fell $7.75, or 0.5%, to $1,576.25 an ounce,
Silver declined 38.0 cents, or 1.4%, to $27.07 an ounce,
Platinum shed $7.00, or 0.5%, to $1,408.00 an ounce, and
Palladium lost $4.00, or 0.7%, to $577.00 an ounce
Losses were deeper for the week at 1.2% for gold, 1.5% for silver, 1.1% for platinum and 0.7% for palladium.
U.S. Mint Bullion Coin Sales
Sales of U.S. Mint bullion products have crawled at a snail's pace. Gains in gold coins were limited to Monday and silver coins were silent on Tuesday and Wednesday. The result was one of the worst weekly performances for bullion coins in 2012. For the week, U.S. Mint coin sales included:
1,000 of the one-ounce, 22-karat American Gold Eagle coins. Last week U.S. Mint distributors ordered 10,000 of the same coins and another 1,000 of the 24-karat American Gold Buffalo coins.

325,000 ounces of silver bullion coins compared to 549,500 ounces in the previous week. The week's gains included 322,000 American Silver Eagles and 600 America the Beautiful 5 Ounce Silver Coins.
The following are the latest daily, weekly, July and year-to-date bullion coin sales totals as published by the U.S. Mint.
US Mint American Eagle and Buffalo Bullion Coin Sales
Daily Gains
Prior Weekly
Weekly Gains
July Gains
YTD 2012
$50 American Gold Eagle Coins
0
10,000
1,000
17,000
302,000
$25 American Gold Eagle Coins
0
0
0
0
56,000
$10 American Gold Eagle Coins
0
0
0
2,000
54,000
$5 American Gold Eagle Coins
0
0
0
0
175,000
$50 American Buffalo Gold Coins
0
1,000
0
1,500
76,500
American Eagle Silver Coins
125,000
536,500
322,000
1,228,000
18,620,000
In other related coin news, read about the newest American coin set to include an American Silver Eagle.
America the Beautiful 5 Oz. Bullion Silver Coin Sales
Daily Gains
Prior Weekly
Weekly Gains
July Gains
All-Time Total
2012 El Yunque National Forest 5 oz. Silver Coins
0
1,300
100
1,500
11,400
2012 Chaco Culture National Historical Park 5 oz. Silver Coins
0
1,200
500
2,700
5,900
2011 Olympic National Park 5 oz. Silver Coins
0
100
0
100
85,300
2011 Vicksburg National Military Park 5 oz. Silver Coins
0
0
0
0
38,600
2011 Chickasaw Park 5 oz. Silver Coins
0
0
0
0
28,900
TOTAL
0
2,600
600
4,300
170,100
The above U.S. Mint bullion coin sales are in coin totals, not the amount of ounces sold.