Collectors may have to pay $100 more for the 2011-W Proof American Platinum Eagle. (This 2012-dated Eagle is yet to be released.) If the London Fix PM price for the precious metal on Wednesday is a dollar more than it was on Tuesday, expected a price hike.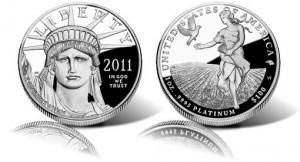 The United States Mint bases its numismatic platinum and gold product pricing on weekly precious metals averages on the London Fix. Platinum's average has edged up.
A price bracket of between $1,350.00 and $1,449.99 per ounce is presently being used in setting the proof Platinum Eagle price tag of $1,692.00. A quick calculation of the average starting last Thursday through Tuesday on the London Fix comes in higher at $1,455.12 an ounce.
What it comes down to is this:
If Wednesday's AM price is above $1,408.99 and the PM price is $1,450.00 or more, then the proof Platinum Eagle price will increase by $100.

But, if the PM price is $1,449.99 or less, regardless of the AM price, then the coin's price will stay the same. (A table at the end of this article shows London's recent prices.)
[Update: Platinum's London Fix PM price on Wednesday was $1,420 an ounce. As a result, the U.S. Mint did not increase the proof Platinum Eagle price.]
In the gold market, things have not changed enough since last week to trigger numismatic gold coin price adjustments. Since last Thursday, the average crept to $1,594.40 an ounce which is still within the Mint's present price bracket of between $1,550.00 and $1,599.99 an ounce. In order for the average to move out of that range tomorrow, gold's AM fix would need to be $1,644.75 or higher and the PM fix would need to be $1,600.00 or higher.
It should be noted that the latest prices of the two metals in New York did experience declines Tuesday. Platinum fell to $1,429.70 an ounce and gold fell to $1,579.80 an ounce. As a gauge, these levels suggest coin pricing adjustments are less likely.
Should they occur and based on past practice, the United States Mint would halt ordering for the affected coin sometime between 11:00 a.m. and 12:00 p.m. ET on Wednesday and reintroduce it several minutes later at the new price.
Recent Platinum and Gold London Fix Prices
Date
Platinum
Gold
AM
PM
AM
PM
7/5/2012
$1,487.00
$1,468.00
$1,616.75
$1,604.00
7/6/2012
$1,467.00
$1,450.00
$1,591.75
$1,587.00
7/9/2012
$1,440.00
$1,441.00
$1,581.00
$1,585.00
7/10/2012
$1,439.00
$1,449.00
$1,594.50
$1,595.25
7/11/2012
?
?
?
?
To determine numismatic platinum and gold coin prices, the United States Mint tabulates daily London fixings from the previous Thursday AM to the following Wednesday AM, calculates their average and then checks where that average falls on a pre-defined pricing grid found on its website. The PM fixing on Wednesday is then used as a directional indicator that can trigger or stop adjustments.