A ceremony at the U.S. Capitol was held on Wednesday, June 27 that recognized the first African-Americans who entered the United States Marine Corps, the Montford Point Marines.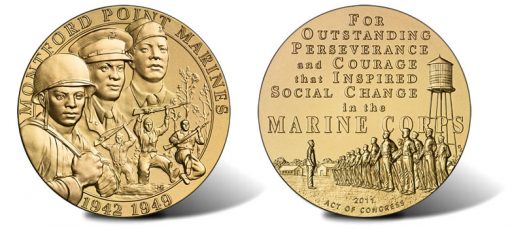 The Congressional Gold Medal was presented by House Speaker John Boehner and Senate Majority Leader Harry Reid on the behalf of Congress to the veterans for their sacrifice and service during World War II.
On Thursday, June 29, the United States Mint made available bronze duplicates of the awarded medal in 3 inch and 1.5 inch sizes. The bronze medals are $44.95 for the 3 inch size and $7.95 for the 1.5 inch size.
Orders for the bronze medals may be placed either by going to the Mint's website at http://catalog.usmint.gov or by calling toll-free at 1-800-USA-MINT (872-6468).
Congress authorized the medals under Public Law 112-59. The Montford Point Marines consist of the African-American soldiers who trained at Camp Montford Point in North Carolina between 1942 and 1949. In total, 19,168 African-Americans served in the Marine Corps in World War II.
Shown on the obverse of the medals are three Montford Point Marines in different uniforms, representing varying military roles. Beneath the busts is an action scene depicting their training. The inscription across the top says, "MONTFORD POINT MARINES," and across the bottom is, "1942-1949." The design was created and sculpted by Michael Gaudioso, United States Mint Sculptor-Engraver.
The reverse portrays the marines in formation during training, with buildings and a tall water tower in the background. Above the Marines are the inscriptions, "FOR OUTSTANDING PERSEVERANCE and COURAGE that INSPIRED SOCIAL CHANGE in the MARINE CORPS," and at the bottom more inscriptions are, "2011" and "ACT OF CONGRESS." The reverse was designed and sculpted by Don Everhart, United States Mint Sculptor-Engraver.
The bronze medals were produced at the U.S. Mint facility in Philadelphia.
For more information on the Montford Point Marines, also see http://www.montfordpointmarines.com/.