Collectors had American gold rarities on their minds May 31-June 3 at the Long Beach Convention Center during Heritage Auctions' $12.67 million U.S. Coins Signature® Auction, as an 1879 $4 Flowing Hair, Judd-1635, Pollock-1833, PR64 PCGS rose to the top of the auction with a final price realized of $184,000.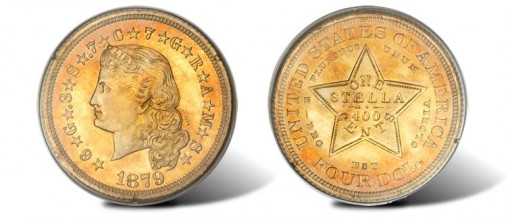 All prices include 15% Buyer's Premium.
"We were impressed with the amount of collectors that participated and equally impressed with the prices realized in the auction," said Greg Rohan, President of Heritage Auctions. "Gold has fluctuated wildly at melt value, but high-grade numismatic gold is as strong as ever."
Two coins tied for the second and third spots in the auction's top tier: a rare and beautiful 1887 $10 PR65 Cameo NGC. Ex: Miller Collection, with magnificent eye appeal and one of the finest known 1931 $10, MS66, Ex: Duckor/Eliasberg — a superb examples of one of the most popular American coins of them all — both rose amidst spirited bidding to finish the auction at $120,750.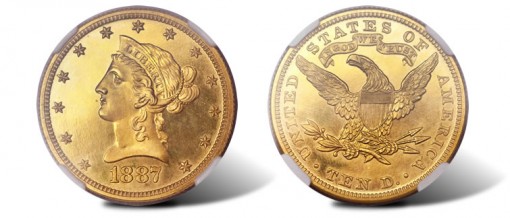 One of the very finest known 1931-D $20, MS65 PCGS, provided further fireworks at the top of the auction, with a final price realized of $97,750m while a 1792 H10C Half Disme, Judd-7, Pollock-7, VF25 PCGS, a prime example from the very first year of the denomination, was the only non-gold entry in the auction's Top 10, garnering the admiration of collectors to the tune of $77,625.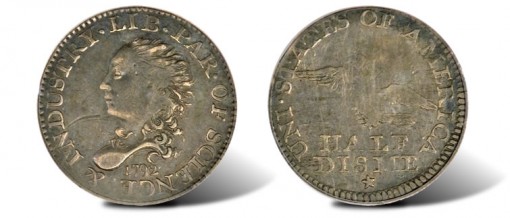 Further highlights include, but are not limited to:
1882 $20 AU53 PCGS: Realized $86,250.
1797 $10 Large Eagle MS61 NGC: Realized $86,250.
1914 $5 PR66 PCGS CAC, Premium Gem Matte Proof: Realized $74,750.
1912 $20 PR67 NGC Superb Gem Matte Proof: Realized $74,750.
1907 $20 High Relief, Flat Rim MS66 PCGS: Realized $71,785.
About Heritage Auctions
Heritage Auctions, headed by Steve Ivy, Jim Halperin and Greg Rohan, is the world's third largest auction house, with annual sales more than $800 million, and 700,000+ online bidder members. For more information about Heritage Auctions, and to join and gain access to a complete record of prices realized, along with full-color, enlargeable photos of each lot, please visit HA.com.