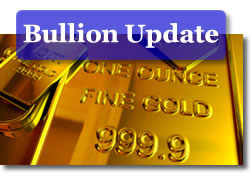 Gold on Thursday gave back more than it gained during the previous two days after Federal Reserve Chairman Ben Bernanke's highly anticipated speech provided no indication of impending stimulus.
"The market was obviously looking for more conviction, but Bernanke is not willing to commit one way or another," Reuters quoted Anthony Neglia, president of Tower Trading and a COMEX gold options floor trader.

"We hit a major wall not being able to get above $1,650 earlier. If we break below $1,580 convincingly, we are heading $1,500 bound," Neglia said.
Gold prices for August delivery plunged $46.20, or 2.8%, to settle at $1,588.00 an ounce on the Comex in New York. Gold intraday low and high prices were $1,579.40 and $1,630.70.
"Gold is weak after Ben Bernanke came out less 'dovish' than expected when he didn't explicitly allude to more accommodation or easing on the way," MarketWatch quoted Tom Essaye, editor of the 7:00's Report, a daily commentary on equity and commodity markets and the economy.

"This somewhat refutes [Fed Vice Chairman Janet] Yellen's comments from last night and puts any additional easing for the June meeting as pretty unlikely," he said. "That being said, there's strong support [for gold] at the $1600 level, as generally the market feels that QE3 or more accommodation is just a matter or 'when' and not 'if'."
In other precious metals settlements on Thursday:
Silver led precious metals losses, giving back a sizeable portion of its prior session gain of $1.083. Silver prices for July delivery fell 95.9 cents, or 3.3%, to $28.529 an ounce. The white metal's intraday range went from $28.360 to $29.675.

Platinum prices for July delivery settled to $1,440.90 an ounce, falling $28.30, or 1.9%. The PGM metal traded between $1,436.00 and $1,471.20.

Palladium prices for September delivery fell $7.05, or 1.1%, to $625.75 an ounce, ranging from $620.00 to $632.80.
London Precious Metal
London precious metals were mixed with mostly modest changes. Gold was the biggest mover in the group. When comparing the most recent London PM fixings:
Gold declined $29.00, or 1.8%, to $1,606.00 an ounce,
Silver dipped 8.0 cents, or 0.3%, to $29.28 an ounce,
Platinum advanced $8.00, or 0.5%, to $1,466.00 an ounce, and
Palladium added $9.00, or 1.5%, to $629.00 an ounce
U.S. Mint Bullion Coin Sales
Sales of American Silver Eagle bullion coins advanced 100,000 for a third straight day of gains. The Eagle now sits at 290,000 for the month.
The U.S. Mint's second most popular bullion product, the American Gold Eagle, rose for the first time in June. The one-ounce Gold Eagle coin gained 500.
Also up for the the first time this month and at the same 500 amount was the American Gold Buffalo.
The following are the daily, June and year-to-date bullion coin sales totals as published by the U.S. Mint.
U.S. Mint American Eagle and Buffalo Bullion Coin Sales
Daily Gains
June Gains
YTD 2012
American Gold Eagle Coin (1 oz.)
500
500
230,500
American Gold Eagle Coin (1/2 oz.)
0
0
54,000
American Gold Eagle Coin (1/4 oz.)
0
0
46,000
American Gold Eagle Coin (1/10 oz.)
0
0
150,000
American Gold Buffalo Coin (1 oz.)
500
500
65,500
American Eagle Silver Coins
100,000
290,000
14,824,000
America the Beautiful 5 Oz. Silver Bullion Coin Sales
Prior Weekly
Daily Gains
June Gains
All-Time Total
2012 El Yunque National Forest 5 oz. Silver Coins
5,400
0
800
6,200
2011 Olympic National Park 5 oz. Silver Coins
100
0
0
85,200
2011 Vicksburg National Military Park 5 oz. Silver Coins
100
0
200
38,600
2011 Chickasaw Park 5 oz. Silver Coins
0
0
0
28,900
TOTAL
5,600
0
1,000
158,900
U.S. Mint figures above are in coin totals, not the amount of ounces sold. The last time the U.S. Mint updated the 5 ounce silver coin totals was Tuesday, June 5, 2012.