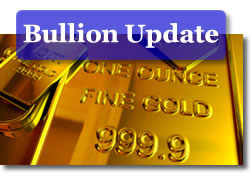 Gold and other precious metals slid further Monday. European debt woes continued to drive investors toward the U.S. dollar, with gold prices resultantly falling to the lowest level since December and thereby erasing this year's gains.
"Gold is under severe pressure. The U.S. dollar is being seen as a safe haven at the moment and as long as the dollar is appreciating against the euro this is clearly weighing on the gold price," Reuters quoted Daniel Briesemann, analyst at Commerzbank.

"I wouldn't be surprised if we test the December low of around $1,520 an ounce and if we don't stop here we could go below $1,500."
Gold prices for June delivery declined $23.00, or 1.5%, to $1,561.00 an ounce on the Comex in New York. It was the lowest settlement price since December 29. And with that, gold moved down on the year with a loss of $16, or 1%. Gold prices fell 3.7% last week.
In other metal futures prices on Monday:
Silver prices for July delivery dived 53.7 cents, or 1.9%, to $28.353 an ounce, trading between $28.205 and $29.000. Silver holds onto a modest 0.5% increase in 2012.

Platinum prices for July delivery settled down $28.80, or 2.0%, to $1,442.60 an ounce, ranging from $1,442.10 to $1,476.50. Platinum is currently the best performing precious metal this year, up 4.9%.

Palladium prices for June delivery lost $8.55, or 1.4%, to $594.85 an ounce, moving between $591.45 and $609.40. Palladium is off 5.3% in 2012.
London Precious Metal
Losses in London precious metals were a bit less severe for silver, platinum and palladium, but gold's decline was about on par with futures in New York. When comparing the most recent London PM fixings:
Gold shed $24.50, or 1.5%, to $1,558.50 an ounce,
Silver fell 25.0 cents, or 0.9%, at $28.33 an ounce,
Platinum stepped back $18.00, or 1.2%, to $1,448.00 an ounce, and
Palladium lost $3.00, or 0.5%, at $602.00 an ounce
U.S. Mint Bullion Coins
Falling silver prices may have finally sparked extra interest in bullion American Silver Eagles. The 99.9% fine silver coins shot up 475,000 on Monday, nearly matching the previous sales total for all of May.
The following are the available daily, May and year-to-date bullion coin sales totals as reported by the U.S. Mint.
U.S. Mint American Eagle and Buffalo Bullion Coin Sales
Daily Gains
May Gains
YTD 2012
American Gold Eagle Coins (1 oz.)
0
31,500
212,500
American Gold Eagle Coins (1/2 oz.)
0
0
51,000
American Gold Eagle Coins (1/4 oz.)
0
0
42,000
American Gold Eagle Coins (1/10 oz.)
0
0
135,000
American Gold Buffalo Coin (1 oz.)
0
1,000
56,500
American Silver Eagle Coins
475,000
985,000
12,644,000
America the Beautiful 5 Oz. Silver Bullion Coin Sales
Prior Weekly
Weekly Gains
All-Time Total
Olympic National Park 5 oz. Silver Coins
0
0
85,100
Vicksburg National Military Park 5 oz. Silver Coins
0
0
38,300
Chickasaw Park 5 oz. Silver Coins
0
0
28,900
TOTAL
0
0
152,300
All coin sales figures in the above tables are in number of coins, not in the amount of ounces sold. The U.S. Mint last updated five ounce bullion silver coins sold on Monday, April 9, indicating none have sold since.