The third week of April unveils six collector products from the United States Mint. The first features Chaco Culture National Historical Park Quarters in a Three-Coin Set and the remaining five products offer 2012-W Proof Gold Eagles.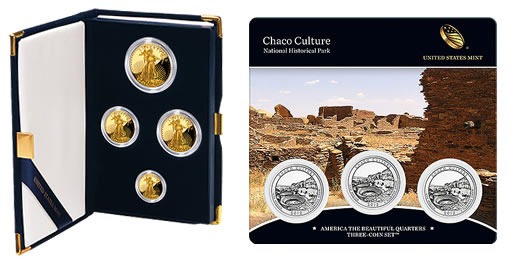 Starting the week is the Tuesday, April 17, release of the Chaco Culture Quarters Three-Coin Set. Past coin sets have been popular with collectors. Over 10,000 were purchased during the first week of each of the previous eleven issues.
In the set are a proof quarter from the U.S. Mint facility in San Francisco, an uncirculated quarter struck in Philadelphia, and an uncirculated quarter minted in Denver. The U.S. Mint lists the quarters set for $9.95, which is $5 less than each of the 2011-dated and 2010-dated issues. Orders for the Chaco Culture Quarters Three-Coin Set may be placed through this U.S. Mint product page.
Thursday, April 19, marks the debut of the 2012-W Proof American Gold Eagles. Their prices will vary based on the amount of gold they contain, and will not be known until midweek. Four sizes will be sold individually, which include the one ounce, one-half ounce, one-quarter ounce, and one-tenth ounce offerings. As always, the U.S. Mint will offer a four-coin set which contains them all. All proof Gold Eagles are packaged in a clear plastic coin holder and placed within a velvet, satin-lined presentation case.
Interested buyers will find the U.S. Mint product page for the Proof American Gold Eagles on this U.S. Mint page.
The United States Mint will place the new products on sale on their respective issue dates beginning at 12:00 noon ET.
As a reference, the grid below shows an updated list of U.S. Mint scheduled product releases for the remaining half of April:
Remaining US Mint April 2012 Numismatic Product Releases
| | | |
| --- | --- | --- |
| Release Date | U.S. Mint 2012 Numismatic Product | Product Price |
| 4/17 | Chaco Culture Quarters Three-Coin Set | $9.95 |
| 4/19 | Proof Gold Eagles | TBD |
| 4/24 | America the Beautiful Quarters® Uncirculated Coin Set | $12.95 |
| 4/24 | Presidential $1 Coin Proof Set | $18.95 |
| 4/26 | Native American $1 Coin Rolls | $32.95 |
Also next week, the U.S. Mint will not offer expedited shipping. Below is the Mint's explanation with more details.
"Due to the United States Mint's quarterly inventory, expedited shipping will not be available for orders placed from April 16 through April 22, 2012. Orders over $300 and orders containing gold or platinum United States Mint collectibles will receive a complimentary upgrade, but may experience a slight delay. Expedited shipping will be available again for orders placed on or after April 23, 2012."
The Mint went on to apologize for the inconvenience.