The newest release in an annual series of affordable gold coins containing an iconic Australian design is now available. The 2012 Australian Mini Roo Gold Coin has been released by the Perth Mint of Australia offering collectors the chance to obtain one of the most unique precious metal coins available today.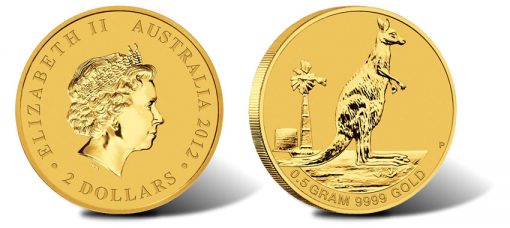 Struck from 0.5 grams of 99.99% pure gold, the 2012 Australian Mini Roo also represents one of the purest annual gold coins issued in the world. The series originally debuted in 2010 and has become a favorite of collectors.
2012 Mini Roo Gold Coin Designs and Specifications
Each year, the Perth Mint changes the design found on the reverse of the Mini Roo Gold Coin. Perth artist Wade Robinson has been responsible for those reverse designs since the series debut.
In 2010, a hopping kangaroo was shown as it might appear in the outback of Australia. The 2011 Australian Mini Roo saw the marsupial in a resting pose leaning forward. The newest strike in the series expands on the detail offered in the series by depicting a standing kangaroo with an outback scene behind it, complete with a windmill and water tank.
Also shown on the reverse of the coin are the inscriptions indicative of the coin's contents. This includes "0.5 GRAM" and "9999 GOLD." Also seen on the reverse is the Perth Mint's historic 'P' mintmark.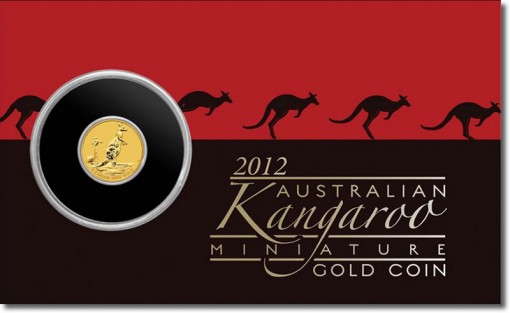 The Mini Roos are struck as legal tender of Australia under the Australian Currency Act of 1965. Accordingly, the obverse of each coin finds Ian Rank-Broadley's effigy of Her Majesty Queen Elizabeth II. The portrait of the Queen is surrounded by the inscriptions of "ELIZABETH II," "AUSTRALIA," "2012" and the face value of "2 DOLLARS."
The Perth Mint houses each coin in a protective acrylic capsule and presents it in colored wallet-sized card. Mintage is listed as unlimited for the new strike.
2012 Mini Roo Gold Coins may be purchased directly from the Perth Mint for AUS $54.09, or about US $56. Prices may change slightly each day depending on the direction of the gold market.
Ad Banner to Perth Mint Website

For more information or to place an order, visit The Perth Mint website at www.perthmint.com.au.
See other Perth Mint coin highlights from this site's Australian Coin Guide.
About the Perth Mint
The Perth Mint, wholly-owned by the State Government of Western Australia, is the official issuer of the Australian Federal Government's Gold and Silver Bullion Coin Program. The Mint opened in 1899 as Australia's third branch of Britain's Royal Mint.
The Perth Mint remained under Britain's jurisdiction until 1 July 1970, when ownership transferred to the State Government of Western Australia. Aside from the aforementioned bullion coins, the Perth is also responsible for releasing some of the most unique numismatic products available to collectors today.