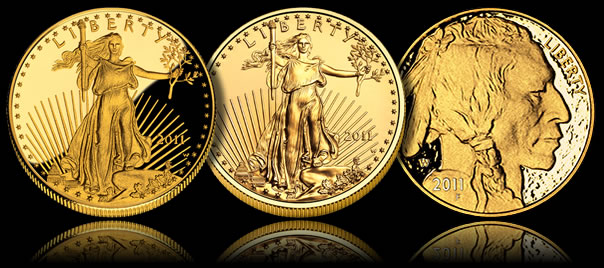 For a second straight week, it appears unlikely that the United States Mint will adjust coin prices on either of its numismatic gold or platinum coins.
Gold and platinum prices have been holding relatively steady in London since Thursday, with gold's average currently hovering near $1,653 an ounce and platinum's average just above $1,671.
The threshold for the U.S. Mint's current gold coin pricing is based on a London Fix gold weekly average of between $1,650.00 and $1,699.99 an ounce. In order for the Mint to drop coin prices, the Wednesday AM fixing would have to fall below $1,627.46, and the Wednesday PM fixing would need to stay under $1,650.00. While certainly more possible given gold's tumbling performance today, the chances seem slim that tomorrow's AM price retreats to the needed level. As a reference point, gold prices on Tuesday closed down $20.30 to $1,647.00 an ounce in the New York futures market.
As for platinum, the U.S. Mint's proof Platinum Eagle pricing is based on the noble metal's span from $1,650.00 to $1,749.99 an ounce. A much larger swing would be required for the Eagle's price to get cut. The AM fixing alone would need to plummet under $1,480 an ounce. As of this writing, the futures market has platinum off $28.80 to $1,655.90 an ounce.