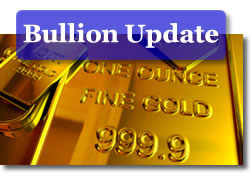 Gold futures were nearly unchanged Thursday after spending most of the day lower until the U.S. dollar weakened.
By the day's end, gold prices added 30.0 cents to $1,728.40 an ounce in the April futures contract on the Comex in New York. The yellow metal moved between an intraday low of $1,706.70 and a high of $1,731.10.
"We are seeing less concern in the Europe and strong U.S. data. Gold will be driven by the dollar and whether Greece will get approved for a bailout package," Reuters quoted Peter Buchanan, senior economist, CIBC World Markets.
Silver prices for March delivery edged down 3.8 cents, or 0.1%, to $33.370 an ounce, trading between $32.640 and of $33.535.
On Wednesday, palladium declined while platinum gained. On Thursday, their positions reversed as palladium prices surged 1.9% and platinum fell 0.7%.
Platinum prices for April delivery declined $12.10 to $1,626.10 an ounce, ranging from $1,604.50 to $1,637.20. Palladium prices for March delivery rallied $12.95 to $696.60 an ounce, trading between $676.40 and $698.80.
London Precious Metals
London precious metals plummeted following previous day gains. When comparing the PM London fixings between Wednesday and Thursday, gold fell $20.00 to $1,713.00 an ounce, silver declined 51.0 cents to $33.18 an ounce, platinum prices lost $26.00 to $1,610.00 an ounce and palladium fell $6.00 to $682.00 an ounce.
U.S. Mint Bullion Coins
Sales levels for U.S. Mint bullion coins were unchanged Thursday as of 3:13 PM ET. The latest U.S. Mint bullion sales figures follow.
Sales of U.S. Mint American Eagle and Buffalo Bullion Coins
Daily Gains
Feb. Gains
YTD 2012
American Gold Eagles (1 oz.)
0
14,500
99,000
American Gold Eagles (1/2 oz.)
0
0
49,000
American Gold Eagles (1/4 oz.)
0
2,000
40,000
American Gold Eagles (1/10 oz.)
0
0
85,000
American Gold Buffalo Coin (1 oz.)
0
3,500
17,000
American Silver Eagles
0
835,000
6,942,000
Sales of America the Beautiful 5 Oz. Silver Bullion Coins
Prior Weekly
Weekly Gains
All-Time Total
Olympic National Park 5 oz. Silver Coin
0
0
84,600
Vicksburg National Military Park 5 oz. Silver Coin
0
0
37,300
Chickasaw Park 5 oz. Silver Coin
0
0
28,100
TOTAL
0
0
150,000
All bullion coin totals in the above tables are in the number of coins sold, not the amount of ounces. The latest five-ounce sales were provided by the U.S. Mint on Friday, January 27, 2012. The Mint does not publish daily sales figures for its five-ounce silver coins. However, since the last released date is more than two weeks past, there likely has not been new sales to report.