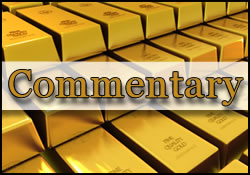 The week's 2% rally in the euro bumped up against resistance near the $1.298 area and the common currency retreated nearly half a percent pulling gold prices down by a similar amount as Friday's trading action got underway in New York this morning.
While the IMF is said to still be looking to raise a half trillion dollars to help with loans to indebted EU countries, and while private bondholders are still discussing how much to "take off the top" with Greece, there is evidence that not all is well in Europe; at least not to the extent this week's market-centric optimism would have us believe.
In fact, the current EBC three-year loan program (unlimited in scope) is already being seen as providing only transient relief to certain banks in say, Italy, or Spain. Bond yields and the behavior of bond investors and/or vigilantes reveals a healthy degree of skepticism about the post-ECB lending scheme environment. Would-be buyers of such debt instruments appear to be searching for concrete evidence that specific nations have embarked on a successful campaign to curtail spending, raise more revenues, and to protect economic growth.
That is a tall order, by anyone's definition, at this time. Every government in crisis has promised to tighten the belt to the maximum possible level. The denizens of said nations however see this as the tightening of the noose around their necks and are being… less than cooperative about the process. Enter Nobel laureate economist Joseph Stiglitz who played right into the hands of the skeptics with the observation that "Austerity on its own won't bring growth." It will, however bring… other things, such as those recently on display in Bucharest or Budapest.
Spot precious metals dealings opened with assorted losses this morning as the aforementioned fizzling in the euro's rally occurred and as the US dollar repaired yesterday's minor damage with an ascent of 0.35% to the 80.36 mark on the trade-weighted index. Gold fell $10 to $1,645.50 while silver dropped 19 cents to the $30.45 bid quote. Rhodium was quoted as unchanged at $1,300 per ounce.
HSBC' release of its flash Chinese PMI data added to the base and precious metals' woes as it continues to show difficulties in that country's manufacturing sector (as well as its export sector). As China ushers in the New Year, many are wondering what will happen in the all-important real estate niche given what has just been learned about it.
Bloomberg Business Week reports that China's December home prices posted their worst performance last year, with only two of the 70 cities tracked by the government posting gains. Prices in 52 of 70 cities monitored declined from the previous month, the statistics bureau said this week, while those in the nation's four major cities of Shanghai, Beijing, Shenzhen and Guangzhou slid for a third month. The nation's home transactions will fall 10 percent this year, according to Daiwa Securities Capital Markets, while UBS AG says the curbs may boost supply to the highest in a decade."
Also adding to downside pressure in gold was the perception that physical gold demand from China is now at risk as locals begin Year of the Dragon celebrations and have apparently loaded up on as much gold as they wished prior to the event. Counting on India to take up the slack may not… pan out either, as one day after the imposition of new, high tariffs on gold and on silver the locals were apparently steering clear of their local gold outlets.
It is, however, a reasonably safe bet that some Chinese gold acquirers in recent weeks opted to go for the stunning range of PAMP "Lunar Calendar Series" gold ingots that feature the scaly creature that hopefully brings them good fortune in 2012. Enter the Dragon; the PAMP Dragon, that is. You can see it, along with many other fine recent designs by gold fabricators at your one-stop source for jaw-dropping images of the yellow metal; GoldBarsWorldWide.com
Platinum was down $15 at $1,505 and palladium was off by $12 at $663 per ounce. In PGM-supportive news, we have two items of interest today. First, we have the news that GM is at number one spot again (whodathunkit after the near-death experience it had just 36 months ago?) in the world of automobile sales. The US firm moved more than 9 million cars into global consumers' garages last year, edging out Toyota Motor, which also fell behind VW Group in its 2011 sales on account of the production difficulties arising out of the March 2011 Sendai Quake.
Next, if you thought that the probable exhaustion on Russia's state-owned palladium stockpiles might make life "interesting" for that metal as we head into next year, consider the following news item as well. Reuters reports that "Russian miner Norilsk Nickel is expecting to reduce production this year to adapt to a slight fall in global metals demand, its CEO said on Thursday, but does not see a slump into another global economic crisis. The company [is] the world's biggest producer of nickel and palladium."
Speaking of the world's biggest, well, the world's biggest… wallets will be gathering in Davos, Switzerland shortly to discuss what the 1% can do to keep the 99% from building barricades around the world. This year's theme in the picturesque Alpine village will be "The great transformation: shaping new models." Exactly what that translates into for us mere mortals, is still fuzzy.
Apparently, the world's elite feel that 2012 is a ripe time for a "fresh start" and that certain old "models" (not referring to Elle McPherson) no longer work. The meeting will be opened with an address by German Chancellor Merkel on Wednesday night. To say that the word "Europe" will be liberally sprinkled around at this year's meeting is to say that there's a "liberal sprinkling" of snowflakes surrounding Davos…
Meanwhile, us, mere mortals, will be headed for a more… modest but perhaps more interesting event than the glitterati over in Davos: the Cambridge House Resource Investment Conference. We have a bunch of things planned for those of you who will (wisely) choose to attend what could be this year's best such event. Among them, a couple of special live webinars to be held at the Kitco Booths (2010,2012,1911 and 1913) and special appearances by our friends at Questrade. RRSP season is (almost) upon us… after all.
Before that, however, something else is upon us. Enter The Year of the Dragon. Please join us in raising a cup of rice wine and in wishing our large and growing Chinese audience a Happy, Healthy, and Prosperous 2012!
Gung Hay Fat Choy!
Jon Nadler
Senior Metals Analyst — Kitco Metals
Jon Nadler
Senior Analyst
Kitco Metals Inc.
North America
Disclaimer: The views expressed in this article are those of the author and may not reflect those of Kitco Metals Inc. The author has made every effort to ensure accuracy of information provided; however, neither Kitco Metals Inc. nor the author can guarantee such accuracy. This article is strictly for informational purposes only. It is not a solicitation to make any exchange in precious metal products, commodities, securities or other financial instruments. Kitco Metals Inc. and the author of this article do not accept culpability for losses and/ or damages arising from the use of this publication.
www.kitco.com and www.kitco.cn
Blog: http://www.kitco.com/ind/index.html#nadler