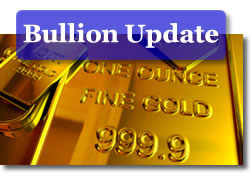 Precious metals and many other markets were pounded Thursday as expectations were dashed for a dramatic solution from European leaders to contain the region's debt crisis. Gold fell 1.8 percent. Even palladium, which had risen for eight straight sessions over supply concerns, was pressured 1.5 percent lower.
"The market is once again completely focused on what's going on in the euro zone," Matthew Zeman, a strategist at Kingsview Financial in Chicago, said in a telephone interview that was recounted on Bloomberg. "Gold has been acting like any other risk asset. When people go into risk-off mode, gold suffers the consequences, like everything else, while the dollar and Treasuries benefit."
Gold prices declined $31.40 to $1,713.40 an ounce in the February futures contract on the Comex in New York. It was the biggest one-day loss for gold since November 21. Prices traded between $1,707.80 and $1,760.5.
"After another feeble attempt at overcoming the seemingly impenetrable $1,750 resistance zone gold prices went into somewhat of a freefall following less than encouraging words from Mr. Draghi at his news conference," noted Jon Nadler, Senior Analyst at Kitco Metals Inc. "In effect, the markets threw a mini-tantrum when they learned that the ECB declined to signal that it might ratchet its debt purchases higher in order to put the crisis fires out in Europe."
Silver prices for March delivery dived $1.089, or 3.3 percent, to $31.538 an ounce. Silver touched a low of $31.425 and reached a high of $33.300.
Platinum prices for January delivery lost $27.60, or 1.8 percent, to $1,494.40 an ounce, ranging between $1,493.40 and $1,537.50.
Palladium prices for March delivery declined $10.15 to $675.30 an ounce, trading from $660.50 to $683.95. Palladium had gained $115.35 during its previous eight-session rally.
London Precious Metals
London precious metals were mixed with slighter overall changes versus New York futures. When comparing London fixings on Thursday (PM) from those on Wednesday (PM), gold declined $20.00 to $1,715.00 an ounce, silver gained 19.0 cents to $32.64 an ounce, platinum fell $1.00 to $1,517.00 an ounce and palladium lost $6.00 to $675.00 an ounce.
U.S. Mint Bullion Coin Weekly Sales
The U.S. Mint reported gains across each of the one ounce bullion coins. For a third straight day, gold coins advanced. The Gold Eagle added 2,000 and the Gold Buffalo added 500. Silver Eagles gained 100,000, rising for the first time since Monday. The latest daily, monthly, and year-to-date U.S. Mint bullion coin sales follow:
Sales of U.S. Mint American Eagle and Buffalo Bullion Coins
Daily Gains
December Gains
YTD 2011
American Gold Eagle Coin (1 oz.)
2,000
16,000
860,500
American Gold Eagle Coin (1/2 oz.)
0
0
65,000
American Gold Eagle Coin (1/4 oz.)
0
0
82,000
American Gold Eagle Coin (1/10 oz.)
0
0
370,000
American Gold Buffalo Coin (1 oz.)
500
8,000
161,500
American Silver Eagle (1 oz.)
100,000
906,000
38,765,500
Sales of America the Beautiful 5 Oz. Silver Bullion Coins*
Gains Over Last Week
YTD 2011
Gettysburg National Military Park 5 oz. Silver Coin
n/a – sold out
126,700
Glacier National Park 5 oz. Silver Coin
n/a – sold out
126,700
Olympic National Park 5 oz. Silver Coin
0
83,300
Vicksburg National Military Park 5 oz. Silver Coin
300
32,500
Chickasaw Park 5 oz. Silver Coin
300
24,700
TOTAL
600
393,900
*The United States Mint does not provide daily sales figures for its 5-ounce silver coins. The sales are current as of Monday, December 5, 2011.