The Bureau of Engraving and Printing (BEP) on Wednesday, November 16, released a new $1 Year of the Dragon Note.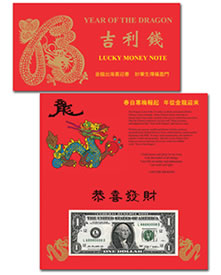 The banknote is the latest BEP product within its Lucky Money Collection which features uncirculated notes in denominations that capture the "significance of the numbers '8888' and '168', as well as the Zodiac celebrated for the specific Lunar Year."
Each of the dollar bills has a serial number beginning with "8888."
"The Dragon is one of 12 zodiac symbols associated with the Chinese Lunar Calendar. This lucky money product is exquisitely designed with decorative Chinese symbolism, and is packaged in a red folder with gold foil," describes the BEP.
In the Chinese zodiac, anyone born between the upcoming Chinese New Year of January 23, 2012 and the end of that 12-month calendar on February 09, 2013 is said to be born in the "Year of the Dragon." Previous starting years include 1904, 1916, 1928, 1940, 1952, 1964, 1976, 1988 and 2000.
Collectors can purchase the $1 Year of the Dragon Note in varying quantities with discounts offered at higher levels. A single note is priced at $5.95. Quantities of 50 to 99 are available for $4.50 per note. Buyers wanting 1,000 or more will pay $3.95 per note.
For more information or to place orders, visit the Lucky Money Collection section of the BEP website at:
http://www.moneyfactorystore.gov/luckymoneycollection.aspx.
$1 Year of the Dragon Notes have a total product limit of 108,888.
About the BEP
The Bureau of Engraving and Printing is the largest producer of security documents in the United States. The bureau prints billions of Federal Reserve Notes for delivery to the Federal Reserve System each year (the BEP does not produce coins — all coinage is minted by the United States Mint). These notes are produced at facilities in Washington, DC, and Fort Worth, Texas.