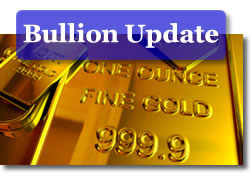 Gold rose along with stocks and other riskier bets Monday, marking a second straight day of gains that cut into last week's losses.
"Gold has moved away from a more traditional safe haven to a risker asset, commodity-type play," Reuters quoted David Meger, director of metals trading at futures broker Vision Financial Markets. "And riskier assets are all trading in tandem right now with the Europe situation."
Gold prices advanced $16.20, or 1.0 percent, to $1,652.30 an ounce in the December futures contract on the Comex in New York. Prices ranged from an intraday low of $1,636.60 to a high of $1,663.30.
"Commodity prices rose this morning along with the levels of optimism surrounding the Euro-debt summit and along with the region's common currency," writes Jon Nadler, Senior Analyst at Kitco Metals Inc. "Gold and the euro have been BFFs of late, so the yellow metal also gained in value in the back of the warm/fuzzies that were seen emanating from the crisis meeting. The irony that gold would gain because a Greek default or European banking sector "accident" would be averted is not lost of some traders. It is one thing for industrial metals to pick up value as perceptions that an economic contraction might not take place if debt solutions are found; it is another, for a so-called "crisis hedge" to also rise because a crisis… might not happen."
Silver prices for December delivery advanced 45.1 cents, or 1.4 percent, to $31.644 an ounce, ranging from $31.230 to $32.040.
Platinum prices for January delivery ended up $32.80, or 2.2 percent, to $1,542.00 an ounce. Platinum moved from $1,510.00 to $1,548.70.
Palladium prices for December delivery closed to $638.50 an ounce, gaining 20.25, or 3.3 percent. Prices traded between $615.65 and $644.80.
London Precious Metals
Gains were more robust for preicous metals in London. When comparing London Fix prices on Monday (PM) from those on Friday (PM), gold advanced $9.50 to $1,652.00 an ounce, silver rose 90.0 cents to $31.70 an ounce, platinum gained $27.00 to $1,537.00 an ounce and palladium advanced $15.00 to $631.00 an ounce.
U.S. Mint Bullion Coin Sales
For a second consecutive day, United States Mint bullin coin sales numbers remained unchanged. The latest daily and year-to-date sales figures follow:
Sales of U.S. Mint American Eagle and Buffalo Bullion Coins
Daily Gains
October Gains
YTD 2011
Gold Eagle Coin (1 oz.)
0
39,000
799,000
Gold Eagle Coin (1/2 oz.)
0
2,000
64,000
Gold Eagle Coin (1/4 oz.)
0
4,000
76,000
Gold Eagle Coin (1/10 oz.)
0
5,000
350,000
Gold Buffalo Coin (1 oz.)
0
12,000
144,500
American Silver Eagle (1 oz.)
0
2,632,000
36,043,500
Sales of America the Beautiful 5 Oz. Silver Bullion Coins*
YTD
2011
Gettysburg National Military Park 5 oz. Silver Coin
126,700
Glacier National Park 5 oz. Silver Coin
126,700
Olympic National Park 5 oz. Silver Coin
82,200
Vicksburg National Military Park 5 oz. Silver Coin
31,500
Chickasaw Park 5 oz. Silver Coin
21,600
TOTAL
389,000
*The as of date for sales of U.S. Mint America the Beautiful Five Ounce Silver Bullion Coins is Wednesday, October 19, 2011. The Mint does not publish daily sales for its 5-ounce coins.