Collectors who may be interested but have not yet purchased the commemorative Canadian $20 Canoe Silver Coin may want to now, as the $20 coin sold for $20 is approaching a sell out.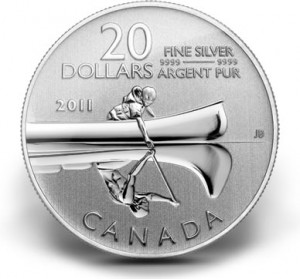 The $20 Canoe silver coin is the second issue in a Royal Canadian Mint commemorative series that features coins sold at face value. The first, depicting a series of maple leafs, had a mintage of 200,000 and sold out in 29 days. The commemorative Canoe coin's mintage was raised to 250,000, and 79 percent of them have already been sold in 27 days, the Royal Canadian Mint (www.mint.ca) announced Monday.
Each Canadian $20 Canoe coin is composed of 99.99 percent silver to a weight of 7.96 grams and a diameter of 27 millimeters. With silver currently trading around $31.60 an ounce, the coin's melt value is worth about $8 US. Of course the coin is actually worth more as it is struck with a Canadian legal tender value of $20. Additionally, the Mint is selling it without charging taxes, making it a better opportunity.
As the name implies, the coin features a reverse design of a canoe.
The canoe has become as much a part of the Canadian visual lexicon as the Canada goose, the beaver and the maple leaf," the Royal Canadian Mint describes. "This design shows a young person enjoying a recreational outing. The boy breaks from paddling to dip his hand in the water… and touches the past — the reflection reveals an early native paddler (or voyageur) in a traditional birch-bark canoe.
When the Mint's latest collector coins were revealed in early October, it also said the design was "reminiscent of our famous 'Voyageur' silver dollar design, first circulated in 1935."
Collectors interested in making a purchase may visit the Mint's website directly at www.mint.ca. There is a 3 per household order limit in place. Shipping and taxes on shipping still apply, the Mint states.