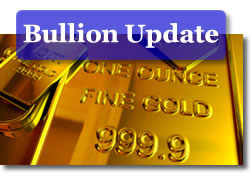 U.S. gold prices rose 1.3 percent and peaked toward a three-week high Wednesday, but it was silver that led the percentage gains among the major metals with its 2.5 percent increase.
Jon Nadler, Senior Analyst at Kitco Metals Inc, notes: "The same excuses that were called into duty to explain why markets fell on Tuesday were swiftly reshaped to suit the mood of the day and were employed to explain today's gains. 'Gold Falls as European Crisis Shows Signs of Worsening' was followed by 'Gold Rises on Renewed European Debt Concerns.' Got that? Good. Now go invest."

"At the end of the day, such 'retrofitting' of the European puzzle's story pieces shows that not only are global investors confused to the max about what to do (and who can blame them?) but that the pundits as well as the media do not have any better grasp of the situation either. Actually, it is becoming slightly comical to read certain headlines of late. But, we will leave that to the 'Daily Show' to bring to you later tonight."
Gold prices gained $21.60 to $1,682.60 an ounce in the December futures contract on the Comex in New York. Gold moved between an intraday low of $1,662.00 and a high of $1,693.90 — its highest point since September 23.
"Gold is slowing building up to the long side again. Any technical moving average we break has some significance to it," Reuters quoted Zachary Oxman, managing director of futures broker Trendmax.com. "If we can cross and close above $1,700, that's the key point to start buying again."
Silver prices for December delivery advanced 79.1 cents to settle at $32.789 an ounce. The precious metal traded from $31.860 to $33.100
Platinum prices for January delivery rose $35.60, or 2.3 percent, to close at $1,554.40 an ounce. The PGM metal ranged between $1,522.40 and $1,559.40.
Palladium prices for December delivery gained $6.80, or 1.1 percent, to settle at $611.10 an ounce. Palladium touched an intraday low of $603.30 and hit a high at $617.80.
London Precious Metals Fixings
After several days of mixed results, London precious metals rose as a group. When comparing PM fixings on Wednesday to those on Tuesday, gold prices gained $19.00 to $1,682.00 an ounce, silver added $1.52 to $32.89 an ounce, platinum advanced $32.00 to $1,546.00 an ounce and palladium climbed $10.00 to $612.00 an ounce.
U.S. Mint Bullion Coin Sales
Following two days of unmoving numbers, the U.S. Mint on Wednesday published gains for each of its one-ounce bullion coins. The 24-karat Gold Buffalo and 22-karat Gold Eagle each climbed 2,500. The bullion Silver Eagles scored the biggest increase, as typical, at 218,000. The latest daily, monthly and year-to-date U.S. Mint bullion coin sales figures follow:
Sales of U.S. Mint American Eagle and Buffalo Bullion Coins
Daily Gains
October Gains
YTD 2011
Gold Eagle Coin (1 oz.)
2,500
24,000
784,000
Gold Eagle Coin (1/2 oz.)
0
2,000
64,000
Gold Eagle Coin (1/4 oz.)
0
4,000
76,000
Gold Eagle Coin (1/10 oz.)
0
0
345,000
Gold Buffalo Coin (1 oz.)
2,500
7,500
140,000
Silver Eagles (1 oz.)
218,000
1,880,000
35,291,500
Sales of America the Beautiful 5 Oz. Silver Bullion Coins*
YTD
2011
Gettysburg National Military Park 5 oz. Silver Coin
126,700
Glacier National Park 5 oz. Silver Coin
126,700
Olympic National Park 5 oz. Silver Coin
82,200
Vicksburg National Military Park 5 oz. Silver Coin
30,500
Chickasaw Park 5 oz. Silver Coin
20,500
TOTAL
388,600
*The Gettysburg and Glacier America the Beautiful Five Ounce Silver Bullion Coins are sold out. Unlike other investment-grade products, the United States Mint does not provide daily per coin sales totals for the Olympic, Vicksburg, and Chickasaw America the Beautiful Five Ounce Silver Bullion Coins. The individual totals are as of Monday, October3. The overall year-to-date total is current as of Monday, October 10 (4,800 of the five ounce coins have sold in October, with 2,000 added last week).