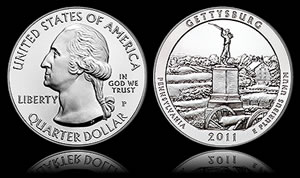 The United States Mint plans to release the 2011-P Gettysburg National Military Park Five Ounce Silver Uncirculated Coin to the public beginning at Noon (Eastern Time) on Thursday, September 22, 2011.
Details given in a Mint press statement issued Thursday indicate changes have been made for the Gettysburg uncirculated coin, the first of five 2011 America the Beautiful Five Ounce Silver Uncirculated Coins™ scheduled for release this year.
There are two noteworthy updates. Household order limits have been ramped up from one to five coins for the first week of sales. And the maximum mintage increased to 35,000. The inaugural 2010-dated coins, which actually were only issued earlier this year, had mintage caps at 27,000 per design.
The increased mintage is likely due to two major factors. First, the United States Mint struggled with the production of the debut year uncirculated coins and their related bullion counterparts. The authorizing law initially required America the Beautiful coins to be struck from five ounces of .999 fine silver to a diameter of three inches and include an edge inscription indicating their weight and fineness. Utilizing new equipment purchased singly for their production, the Mint was eventually able to meet those specifications but much of the year had past. With the production process geared up and more time on hand, the increased mintage is easier to attain.
Second, demand for each uncirculated coin has been solid. The first four issues in the program sold out in nine weeks or less — the first two disappeared in about two weeks. The last issue, the Mount Hood National Forest Silver Uncirculated Coin, is still available after its July 28 release. However, the United States Mint indicates that 21,288 of the coins have been ordered as of Monday, September 12th, accounting for over 78% of the available mintage.
According to the Mint, the 2011-P Gettysburg National Military Park Five Ounce Silver Uncirculated Coin will be sold for $279.95 per coin. This is the same price point used for previous releases. The Mint notes that the price is subject to change, as is possible with all of its precious metal products.
Those interested in placing an order for the Gettysburg uncirculated coin may do so beginning at Noon (Eastern) on September 22 at the United States Mint website (http://catalog.usmint.gov/) or by calling 1-800-USA-MINT (872-6468).