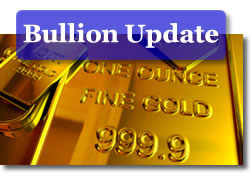 U.S. gold prices settled higher Wednesday, capping a soaring gain of $200.50, or 12.3 percent, in August. Silver advanced as well, ending $1.66, or 4.1 percent, higher on the month.
The pick-ups come on the heels of respective gold and silver gains in July of 8.5 percent and 15.1 percent.
Supporting gold down the road, physical demand is expected to rise as it enters a stronger seasonal period, reminds Allen Sykora of Kitco Metals Inc.
"Gold is entering the time of year when it historically draws support from physical demand tied to a series of major gift-giving holidays around the world, although analysts caution that this impact may not be as great as in the past since physical buying such as jewelry is now a smaller percentage of the market due to rising investment demand," Sykora writes in an article entitled Gold Entering Seasonally Strong Period; Physical Demand Anticipated On Price Dips.

"Analysts say the level of investment, based on macroeconomic factors, will be the most important influence for gold in the coming months. But nevertheless, they also look for physical demand to offer some support, although much of this may tend to come in the form of buying on price dips that helps limit any corrections."
December gold prices added $1.90, or 0.1 percent, to settle at $1,831.70 an ounce on the Comex in New York. The yellow metal traded between $1,813.16 and $1,842.70. Gold prices have surged $410.30, or 28.9 percent, in 2011.
"The next data point for gold is some sort of clarity out of the U.S. Fed over the next few weeks on whether they will deliver another round of quantitative easing," Reuters quoted Tom Price, global commodity analyst at UBS.
Silver prices for December delivery rose 30.4 cents, or 0.7 percent, to close at $41.768 an ounce. The white metal moved from $41.135 to $42.095. Silver has been the brightest of the precious metals this year, advancing $10.83, or 35.0 percent.
Platinum and palladium rose Wednesday, but they have diverged on the month and year.
Platinum futures prices for October delivery advanced $3.10, or 0.2 percent, to settle at $1,856.20 an ounce. Prices traded from $1,846.10 to $1,860.50. Platinum gained 4.0 percent in August. It has climbed 4.4 percent in 2011.
Palladium futures prices for December delivery rose $11.15, or 1.4 percent, to close at $790.45 an ounce. Palladium ranged between $775.20 and $795.00. Palladium is the only precious metal to fall for the month and year, with respective losses of 4.5 percent and 1.6 percent.
London Precious Metals Prices
London Fix metals were mixed as gold retreated while other precious metals prices advanced. When comparing the London PM fixings from Wednesday over Tuesday:
Gold prices declined $11.50 to $1,813.50 an ounce,
Silver rose 45.0 cents to $41.35 an ounce,
Platinum added $5.00 to $1,845.00 an ounce, and
Palladium rose $16.00 to $783.00 an ounce
London metals were also mixed during August. Gains included 11.4 percent for gold, 4.3 percent for silver and 3.7 percent for platinum. Palladium fell 5.0 percent for the month.
U.S. Mint Bullion Coin Sales
The United States Mint on Wednesday reported increases across all of its one-ounce bullion coins.
One-ounce American Gold Eagles rose 7,500, lifting monthly sales to 103,500. That is the second best monthly total after January when the 2011-dated issues were first introduced. 130,500 of the one-ounce Gold Eagles sold then.
One-ounce American Gold Buffalo bullion coins added 1,500 to 28,000 for August, ranking as the second best month in 2011. March sales currently hold the monthly record for this year at 38,000. It was also the month when the 2011-dated issue launched.
American Silver Eagle bullion coins jumped 290,000, bringing their August tally to 3,679,500. That is the second best month for the year, or behind January's 6,422,000 which was the highest monthly total since the Silver Eagle was introduced in 1986. The .999 fine silver coin is a mere 49,000 away from reaching 29 million in sales for 2011. Silver Eagle sales reached 34,662,500 in 2010, the all-time record high year.
While August has not been officially closed out by the United States Mint, the following sales figures are likely to be the finalized numbers for the month:
Sales of US Mint American Eagle and Buffalo Bullion Coins
Daily
Gains
August
Gains
YTD
2011
Gold Eagle Coin (1 oz.)
7,500
103,500
672,500
Gold Eagle Coin (1/2 oz.)
0
3,000
61,000
Gold Eagle Coin (1/4 oz.)
0
6,000
70,000
Gold Eagle Coin (1/10 oz.)
0
55,000
320,000
Gold Buffalo Coin (1 oz.)
1,500
28,000
119,500
Silver Eagle (1 oz.)
290,000
3.6795M
28.951M
Sales of America the Beautiful 5 Oz. Silver Bullion Coins*
YTD
2011
Gettysburg National Military Park 5 oz.
126,700
Glacier National Park 5 oz.
126,700
Olympic National Park 5 oz.
81,200
Vicksburg National Military Park 5 oz.
28,800
Chickasaw Park 5 oz.
17,500
TOTAL
380,900
*The Gettysburg and Glacier America the Beautiful Five Ounce Silver Bullion Coins are sold out. Unlike other investment-grade products, the United States Mint does not provide daily per coin sales totals for the Olympic, Vicksburg, and Chickasaw America the Beautiful Five Ounce Silver Bullion Coins. The above totals are as of August 30.