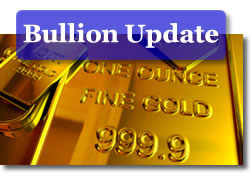 U.S. gold prices quickly topped the $1,700 milestone on Monday following S&P's downgrade of U.S. credit to below the coveted "AAA" rating.
Gold is attractive "in this current macro environment, with high risk and uncertainty surrounding the financial markets," Bayram Dincer, an analyst at LGT Capital Management, was quoted on Bloomberg. "Gold is pricing in the one-notch downgrade as well as a component of lower global GDP growth."
December gold prices surged $61.40, or 3.7 percent, to close at $1,713.20 an ounce on the Comex in New York — a fresh all-time record high. Gold prices ranged from $1,681.70 to $1,721.90.
"You're going to see additional allocation to gold as the fiscal problems in developed countries that led to [recent market declines] are not going away anytime soon," Ross Koestrich, iShares Global Chief Investment Strategist at BlackRock, said according to MarketWatch. "It is one of the few safe-haven assets left."
Gold prices have gained 20.5 percent this year.
September silver prices rallied $1.169, or 3.1 percent, to settle at $39.380 an ounce. Silver moved from an intraday low of $38.320 to a high of $40.40. Jim Wyckoff of Kitco Metals Inc. wrote the following of silver in the Monday Kitco Metals Roundup:
"December silver futures prices closed near mid-range and saw a corrective bounce from solid losses scored late last week. Prices did close at a bearish weekly low close last Friday. Some near-term chart damage has been inflicted in silver recently. However, the silver bulls do still have the overall technical advantage as a four-week-old uptrend on the daily bar chart was negated late last week.

Bulls' next upside price objective is producing a close above solid technical resistance at last week's high of $42.31 an ounce. The next downside price breakout objective for the bears is closing prices below solid technical support at $37.00.

First resistance is seen at $40.00 and then at Monday's high of $40.405. Next support is seen at $39.00 and then at Monday's low of $38.41. Wyckoff's Market Rating: 6.0."
Silver has gained 27.3 percent in 2011.
Platinum prices for October delivery rose $4.50, or 0.3 percent, to $1,723.60 an ounce, trading between $1,709.00 and $1,732.90.
Palladium prices for September delivery declined $13.25, or 1.8 percent, to close at $728.50 an ounce, ranging from $713.00 to $743.50.
London Precious Metals
New York precious metals futures followed in the same direction as earlier London bullion prices. London fixings from Friday (PM) to Monday (PM) had gold prices up $34.25 at $1,693.00 an ounce, silver rising 62.0 cents to $39.86 an ounce, platinum gaining $34.25 at $1,725.00 an ounce, and palladium falling $9.00 at $733.00 an ounce.
United States Mint Bullion Coin Sales
American bullion coins registered soaring gains Monday. In fact, one-ounce gold and silver coins advanced more in one day than during all of last week, according to United States Mint published sales figures.
The biggest Gold Eagle rose 12,000, which is 3,000 more than the previous week. The Gold Buffalo advanced 3,500, surpassing last week's 2,500 increase.
In silver bullion coins, the American Silver Eagle surged 611,000, or 183,00 more than last week's sales gain. With the increase, the Silver Eagles easily topped 26 million in year-to-dates sales. The Mint sold a record 34.6 million of them last year — a record that is expected to fall within three months.
The latest United States Mint bullion product sales figures follow:
US Mint American Eagle and Buffalo Bullion Coin Sales
Daily
Gains
August
Gains
YTD
2011
Gold Eagle Coin (1 oz.)
12,000
21,000
590,000
Gold Eagle Coin (1/2 oz.)
0
2,000
60,000
Gold Eagle Coin (1/4 oz.)
0
2,000
66,000
Gold Eagle Coin (1/10 oz.)
0
10,000
275,000
Gold Buffalo Coin (1 oz.)
3,500
6,000
97,500
Silver Eagle Coin (1 oz.)
611,000
1.039M
26.3105M
America the Beautiful 5 Oz. Silver Bullion Coin Sales*
YTD
2011
Gettysburg National Military Park 5 oz.
126,700
Glacier National Park 5 oz.
126,700
Olympic National Park 5 oz.
80,700
Vicksburg National Military Park 5 oz.
27,500
Chickasaw Park 5 oz.
15,200
TOTAL
376,800
*The Gettysburg and Glacier America the Beautiful Five Ounce Silver Bullion Coins are sold out. Unlike other investment-grade products, the United States Mint does not provide daily per coin sales totals for the Olympic, Vicksburg, and Chickasaw America the Beautiful Five Ounce Silver Bullion Coins. The five ounce coin totals above are as of Tuesday, August 2.