An important 1792 Fusible Alloy Cent, Judd-2, Pollock-2, Low R.7, Fine 15 NGC, CAC, one of the great rarities of early American numismatics will cross the auction block on Aug. 11 as part of Heritage Auctions Chicago Signature® U.S. Coin & Platinum Night Auction.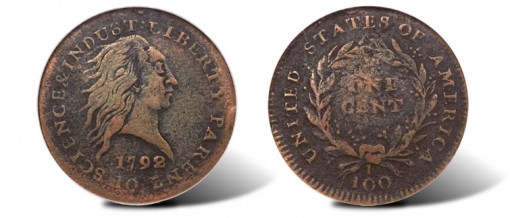 "Less than 10 of these great rarities are known to exist," said Greg Rohan, President of Heritage. "When one comes on the market it constitutes a real numismatic event and we expect collectors will respond accordingly when it comes time to bid."
The 1792 pattern cents, Birch cent, half disme, disme and quarter were the prototypes for what later became the cent, nickel, dime and quarter, all still staples of commerce today. These patterns were essential to the development of United States coinage.
The smaller cents from 1792 are all related, although their presentation differs. The best known of these coins is the silver center cent, proposed by Henry Voigt, who anticipated a smaller cent diameter by 64 years. Four different formats were proposed and executed for these experimental coins, as outlined by Secretary of State Thomas Jefferson in a letter to President Washington on Dec. 18, 1792:
"Th. Jefferson has the honor to send the President two cents made on Voigt's plan by putting a silver plug worth ¾ of a cent into a copper worth ¼ cent," wrote Jefferson. "Mr. Rittenhouse is about to make a few by mixing the same plug by fusion with the same quantity of copper. He will then make of copper alone of the same size, and lastly he will make the real cent as ordered by Congress, four times as big."
From the outset it is apparent that the smaller cents were experimental in nature as seen by Jefferson's reference to "the real cent" being "four times as big."
It was this necessity for preciseness of weight that doomed the fusible alloy cent and its pure copper counterpart, but which made for an incredibly valuable early American numismatic treasure. This coin possesses extraordinary historical significance, extreme rarity and commands unparalleled interest. For a determined collector, it's a once in a lifetime opportunity.
About Heritage Auctions
Heritage Auctions, headed by Steve Ivy, Jim Halperin and Greg Rohan, is the world's third largest auction house, with annual sales more than $600 million, and 500,000+ online bidder members. For more information about Heritage Auctions, and to join and gain access to a complete record of prices realized, along with full-color, enlargeable photos of each lot, please visit HA.com.