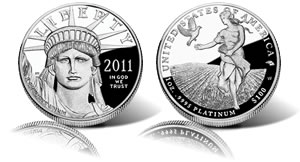 The United States Mint on Wednesday is expected to raise prices on its collector American Platinum Eagle and its numismatic gold coins, including all types of American Gold Eagles, the American Gold Buffalo and each of the uncirculated and proof First Spouse Gold Coins.
[Update: The Mint raised its coin prices, as expected, before 11:30 ET on Wednesday.]
The expected US Mint coin prices will be at their highest levels ever, pushed up by price hikes in platinum and all-time record highs in gold.
Current and Expected Platinum & Gold Coin Price Increases
| | | | |
| --- | --- | --- | --- |
| US Mint Product | Current Price | New Price | Change |
| Proof American Platinum Eagle | $1,992.00 | $2,092.00 | $100.00 |
| Uncirculated First Spouse Coins | $916.00 | $941.00 | $25.00 |
| Proof First Spouse Coins | $929.00 | $954.00 | $25.00 |
| American Gold Buffalo | $1,810.00 | $1,860.00 | $50.00 |
| 1 oz Uncirculated Gold Eagle | $1,778.00 | $1,828.00 | $50.00 |
| 1 oz Proof Gold Eagle | $1,785.00 | $1,835.00 | $50.00 |
| 1/2 oz Proof Gold Eagle | $906.00 | $931.00 | $25.00 |
| 1/4 oz Proof Gold Eagle | $465.50 | $478.00 | $12.50 |
| 1/10 oz Proof Gold Eagle | $200.50 | $205.50 | $5.00 |
| Proof Gold Eagle 4-Coin Set | $3,308.00 | $3,400.50 | $92.50 |
CoinNews.net's U.S. & World Coins page offers information and specifications for each of the coins listed above. Visit the United States Mint online catalog at http://catalog.usmint.gov/ to place orders.
How the US Mint Sets Platinum and Gold Coin Prices
A major component in the Mint's formula for setting prices on its collector platinum and gold coins is, obviously, the cost of their content. There are some general rules in the pricing process.
The US Mint will not offer collector coins below their melt values. For example, the Mint currently has coins that were manufactured at a time when gold was significantly cheaper. Still, these coins have had their prices raised along with the metals market, giving the Mint an even higher profit margin.

To keep products competitive and minimize the potential for price gauging complaints, the United States Mint cuts coin prices when precious metals decline substantially — even if that affects the Mint's bottom line.
To provide clarity on how and when coin prices may be updated, the US Mint developed a coin pricing policy. In summary, every week the US Mint evaluates costs by calculating London Fix averages for precious metals. When an average moves outside a predefined range, price adjustments are made to selected platinum and gold coins.
Current and Expected Pricing Ranges
The current proof American Platinum Eagle price is based on a platinum range of $1,650.00 to $1,749.99 an ounce. While Wednesday's fixings still need to be considered, as long as platinum stays above $1,750 an ounce in the directional PM Fix, the pricing range moves up to between $1,750.00 and $1,849.99 an ounce. That level dictates a Platinum Eagle $100 increase, or a $2,092.00 price.
The current precious metals pricing range used by the US Mint for collector gold coins is $1,500.00 to $1,549.99 an ounce. As long as gold stays above $1,550 an ounce in the directional Wednesday PM Fix, the new range becomes $1,550.00 to $1,599.00 an ounce and mandates the above per coin price increases.
(See current gold and platinum prices.)
When to Expect Increases in Coin Prices
In adjusting new coin prices, the United States Mint will freeze orders for the affected coins until the changes are made. The entire process takes a few minutes and typically occurs on Wednesday between late morning and noon Eastern Time.
Similar price adjustments will not be made to the Mint's investment-grade coins, like the bullion versions of the American Gold Eagle and American Gold Buffalo. Bullion coins do not have a fixed weekly price like proof and uncirculated gold products, but instead are sold for a small amount over the current spot price of gold.