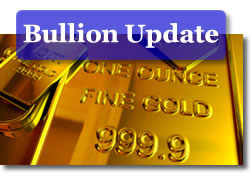 U.S. gold prices edged slightly higher Thursday, marking three-straight daily advances. Silver and palladium were the biggest gainers in precious metals, each rising 1.7%. Platinum followed at 0.6 percent while gold trailed with its modest pick-up of 0.1%.
August gold prices rose $1.40 to $1,530.60 an ounce on the Comex in New York. Gold traded between $1,522.20 and $1,534.90.
"We continue to consider the gold market to be 'under-bought' relative to the level of U.S. real interest rates, and expect current low real rates to motivate a rise in net speculative positions, providing support for a further rally in gold prices," Goldman Sachs said in a note on Thursday, according to Reuters.
Silver prices for September delivery surged 62.0 cents to close at $36.536 an ounce. Silver prices ranged between $35.700 and $36.580. Jon Nadler, Senior Analyst at Kitco Metals Inc., noted the following for silver and gold on Thursday:
"Late Wednesday updates from Elliott Wave note that if the white metal (silver) is successful in overcoming the $38.80 resistance level then it might possibly target the $39.00 area subsequently.

"Gold, on the other hand, would need to overcome the $1,558.00 mark to turn the bearish case into more of a bovine-looking one. Curiously, despite writings to the contrary in the hard money newsletter niche, US gold coin sales… fell on the first half of 2011. The US Mint's gold coin sales declined by 14.4% mainly on account of ultra-high gold prices seen during the period.

The US Mint moved 576,000 ounces of gold in the form of assorted Eagle coins into the retail market. On the other hand, as has been the case historically, chasing the rising-to-the-sky silver price target proved very tempting (make that: irresistible) to small retail silver Eagle buyers; they snapped up 22.3 million ounces of such coins in the first six months of 2011. Shades of the pre Y2K silver coin rush…"
Platinum prices for October delivery rose $9.60 to $1,743.00 an ounce. Prices moved between $1,724.10 and $1,745.30.
Palladium prices for September delivery closed to $786.55 an ounce, rising $13.35. Palladium prices ranged from $767.50 to $788.90.
London bullion prices were mixed. When comparing London Fix prices on Thursday (PM) from those on Wednesday (PM), gold rose a modest 25 cents to $1,527.50 an ounce, silver advanced 48.0 cents at $35.860 an ounce, platinum declined $9.00 to $1,734.00 an ounce, and palladium rose $3.00 at $779.00 an ounce.
Gains in United States Mint bullion coins were, for a second straight day, limited to American Silver Eagles. The Mint reported an increase of 38,000 for the Silver Eagles on Thursday, bringing their seven-day July total to 456,000. The latest available bullion coin sales figures are provided in the table below:
US Mint 2011 Bullion Coin Sales
Daily
Gains
July
2011
YTD
2011
Gold Eagle Coin (1 oz.)
0
3,000
510,500
Gold Eagle Coin (1/2 oz.)
0
1,000
56,000
Gold Eagle Coin (1/4 oz.)
0
0
64,000
Gold Eagle Coin (1/10 oz.)
0
0
250,000
Gold Buffalo Coin (1 oz.)
0
500
80,000
Silver Eagles (1 oz.)
38,000
456,000
22.7595M
ATB Silver Bullion (5 oz.)*
–
–
345,800
*America the Beautiful (ATB) Silver bullion coin sales figures are not published by the United States Mint daily. The current year-to-date figure has an "as of date" of July 5.