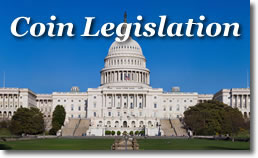 New legislation has been introduced in the U.S. House of Representatives that calls for commemorative 2017 silver dollars in honor of the centennial founding of Lions Clubs International.
Lions Clubs International is the world's largest service club organization and was founded in 1917 by Chicago business leader Melvin Jones. It includes 1.35 million members who volunteer their services in 206 countries. The organization will celebrate its 100th anniversary on June 7, 2017.
The legislation, entitled the Lions Clubs International Century of Service Commemorative Coin Act and numbered H.R. 2139, was introduced by Congressman Peter Roskam on June 3. The bill calls for up to 400,000 silver dollars minted in collector proof and uncirculated qualities. The coins would feature standard commemorative specifications, including a weight of 26.73 grams, 1.500 inch diameter and a composition of 90 percent silver with the remaining copper.
2017 Lions Clubs International Silver Dollars would feature obverse and reverse designs that are emblematic of the organization. In addition to the year 2017, the commemorative coins would have the standard inscriptions of LIBERTY, IN GOD WE TRUST, UNITED STATES OF AMERICA, and E PLURIBUS UNUM.
H.R. 2139 includes language that mandates a $10 surcharge for each silver dollar sold. The funds gathered would be forwarded by the United States Mint to the Secretary of the Lions Clubs International Foundation to:
(1) furthering its programs for the blind and visually impaired in the United States and abroad;

(2) investing in adaptive technologies for the disabled; and

(3) investing in youth and those affected by a major disaster.
For coin legislation to become law, it must pass in both chambers of Congress and win the signature of the President of the United States.
H.R. 2139 currently enjoys the support from 50 other members in the U.S. House of Representatives and has been referred to the House Committee on Financial Services.
For current and past information on commemoratives produced by the United States Mint, refer to this site's Commemorative Coins page.
The following video from the Lions Clubs International website (http://lionsclubs.org/) offers information on the organization.