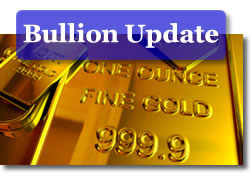 U.S gold prices advanced 0.4 percent Monday to a near two-week high despite a stronger U.S. dollar and falling oil prices — conditions that tend to pressure the yellow metal. Gold's gains were attributed to safe-haven buying due to continued euro zone debt-woes.
Other precious metals retreated modestly, with registered losses of 0.8 percent for platinum and 0.5 percent for silver and palladium.
June gold prices advanced $6.50 to close at $1,515.40 an ounce on the Comex in New York — its best closing price since May 10. Gold prices ranged between $1,503.70 and $1,519.00. Gold prices advanced 1.0 percent last week and are now up 6.6 percent this year.
"Gold is doing relatively well. This whole sovereign debt crisis will continue to be with us for quite some time and I'd suspect people will want the exposure to gold as a hedge against any sovereign defaults," Bart Melek, head of commodity Strategy with TD Bank Financial Group, was quoted on Reuters.

"With the dollar strengthening as a safe haven, you'd expect gold to weaken … it's not happening today mainly because we're looking at gold as a hedge."
Silver prices for July delivery declined 18.3 cents to settle at $34.904 an ounce. It ranged between $34.340 and $35.400. Silver is still 12.8 percent higher in 2011.
Platinum prices for July delivery ended down $13.50 to $1,755.90 an ounce. The metal hit a low of $1,742.20 and a high of $1,783.80.
Palladium prices for June delivery lost $3.70 to $731.80 an ounce, trading between $721.60 and $739.00.
London precious metals moved in the same direction as those in New York, with gold prices rising as silver, platinum and palladium dipped. When comparing London fixing prices on Monday (PM) from those on Friday (PM), gold prices added $19.75 at $1,510.50 an ounce, silver lost 10.0 cents to $34.70 an ounce, platinum declined $17.00 to $1,750.00 an ounce, and palladium fell $11.00 at $723.00 an ounce.
For a second business day, United States Mint Authorized Purchasers (AP's) ordered each of the one-ounce gold and silver bullion coins while shying away from the smaller fractional gold pieces. Additionally, the Mint released the Olympic 5 Oz Silver Bullion Coin on Monday. AP's purchased those as well, although the level of interest in them has not yet been quantified. The United States Mint generally does not publish 5-ounce silver bullion coins sales daily, and instead releases figures on Tuesday of each week.
US Mint 2011 Bullion Coin Sales
Daily
Gains
May
2011
YTD
2011
Gold Eagle Coin (1 oz.)
3,000
84,500
442,500
Gold Eagle Coin (1/2 oz.)
0
22,000
55,000
Gold Eagle Coin (1/4 oz.)
0
4,000
56,000
Gold Eagle Coin (1/10 oz.)
0
15,000
215,000
Gold Buffalo Coin (1 oz.)
500
13,500
72,000
Silver Eagle (1 oz.)
640,500
2,896,500
18,144,500
ATB Silver Bullion (5 oz.)
0
28,000
253,400