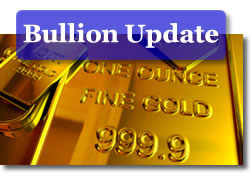 U.S. gold futures on Thursday advanced over $1,531 an ounce and to a new record for a second straight day. Gold benefited from continued weakness in the U.S. dollar. Silver soared 3.4 percent and closed at a fresh 31-year high. The precious metal at its peak fell 44 cents short of $50 an ounce.
June gold prices rose $14.10, or 0.9 percent, to $1,531.20 an ounce on the Comex in New York. Gold futures prices ranged from $1,523.90 to $1,538.80.
"What's behind gold's rally is investors' fear over the dollar's decline," Hwang Il Doo, a Seoul-based senior trader at KEB Futures Co., was quoted on Bloomberg. "As long as the U.S. keeps interest rates low, it's perceived by the market to buy more gold."
"US dollar-selling swiftly reignited in the wake of yesterday's "no change" Fed statement and the Bernanke press conference and it was the primary driver of the rally that brought gold prices to a fresh record at $1,535 during the evening hours," noted Jon Nadler, Senior Analyst at Kitco Metals Inc.

"However, gold's recent spike is now showing signs that the yellow metal is no longer acting as a reflection of speculative responses to the presence of liquidity in the global system, but, rather as a "knee-jerk/go-to" asset by dollar sellers.
Silver prices for July delivery surged $1.554 to $47.541 an ounce. Silver traded between $47.540 and $49.560. Three days ago the metal reached as high as $49.845. The all-time intraday record was set in January 1980 at $50.35 an ounce.
"I don't think the market has topped out. While there are some inflation concerns similar to what we had back in 1980, the reality is that metals are going up as an alternative asset featuring gold, and by proxy silver," Bill O'Neill, partner of commodities firm LOGIC Advisors, was quoted on Reuters.
Platinum prices for July delivery rose $20.70, or 1.1 percent, to $1,839.90 an ounce. Platinum ranged from $1,820.60 to $1,851.90.
Palladium prices for June delivery advanced $17.20, or 2.3 percent, to $775.300 an ounce. Palladium hit an intraday low of $767.05 and a high of $784.40.
London precious metals prices were higher across the board as well when comparing their PM fixings on Thursday from Wednesday. The PM gold fix added $24.50 at $1,535.50 an ounce. Silver soared $3.40 at $48.70 an ounce. Platinum and palladium each gained $23, with respective fixings of $1,835.00 and $777.00.
United States Mint gold bullion coins were unchanged on the day, based on published figures from the bureau's website.
In other coin news on Thursday, the United States Mint released its Hot Springs 5 oz Silver Uncirculated Coin for a price of $279.95. Open demand was intense for the .999 fine silver coin. Potential buyers raced to place their order, bringing the Mint's website down for a time.
Daily, April and year-to-date totals for each of the Mint's bullion coins follow:
United States Mint 2011 Bullion Coin Sales
Daily Gains
April 2011
YTD 2011
American Eagle Gold Coin (1 oz)
0
93,500
357,000
American Eagle Gold Coin (1/2 oz)
0
12,000
33,000
American Eagle Gold Coin (1/4 oz)
0
14,000
52,000
American Eagle Gold Coin (1/10 oz)
0
35,000
195,000
American Gold Buffalo Coin (1 oz)
0
20,000
58,000
American Eagle Silver (1 oz)
0
2,819,000
15,248,000
2011 ATB Silver Bullion Coins (5 oz)
0
153,400
153,400