Three of four precious metals declined Friday. Gold fell the furthest following better than expected jobs data which showed that the U.S. unemployment rate dipped to 8.8 percent.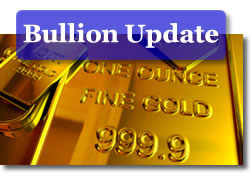 Despite losses, there were sizable advances in bullion this week. Weekly gains ranged from a low of 0.2 percent to a high of 3.3 percent.
June gold prices declined $11.00, or 0.8 percent, to settle at $1,428.90 an ounce on the Comex in New York. Gold traded between $1,413.50 and $1,437.80.
Gold prices advanced 0.2 percent this week. The yellow metal registered its 10th straight quarterly gain on Thursday.
"As economic conditions appear to be improving, evidenced by today's data, gold suffers as a store of value in times of fiscal or financial uncertainties," Mark Luschini, chief investment strategist at broker-dealer Janney Montgomery Scott, said and was quoted on Reuters.
Silver prices for May delivery retreated 15.6 cents, or 0.4 percent, to close at $37.732 an ounce. They ranged between $37.080 and $37.830. Silver prices surged 1.8 percent this week. They soared 22.5 percent in the first quarter 2011.
Platinum prices for July delivery declined $6.30, or 0.4 percent, to $1,776.90 an ounce. Prices ranged between $1,755.20 and $1,786.50. Platinum rose 1.8 percent this week.
Palladium prices for June delivery rose $7.15, or 0.9 percent, to settle at $775.05 an ounce. They hit an intraday low of $762.00 and a high of $778.00. Palladium soared 3.3 percent this week.
"On a short-term basis, the speculative crowd (oh, those sharky funds) appears to be cooling off on the sector, as corroborated by net outflows from palladium ETFs during the past month," noted Jon Nadler, Senior Analyst at Kitco Metals Inc. "More than 177,000 ounces flowed out of palladium ETFs in March, resulting in a net negative figure of 18,000 ounces for the year-to-date. That, however, was not the case for platinum-based ETFs. They added 29,000 ounces on the month and have brought the Q1 tally up to a positive total figure of net additions totaling 151,000 ounces."
London PM fix bullion prices were also mixed on Friday when compared to their PM fixings on Thursday. They were also mixed on the week.
The PM gold fix slid $21.00, or 1.5 percent, at $1,418.00 an ounce on Friday. The fixing declined 0.1 percent this week.
Silver lost 24.0 cents, or 0.6 percent, for the day and 0.1 percent on the week. Its fixing on Friday was at $37.630 an ounce.
Platinum remained unchanged Friday at $1,773.00 an ounce. The metal rose 1.2 percent this week.
Palladium gained $6.00, or 0.8 percent, with its PM fixing of $772.00. It advanced 2.4 percent since last Friday.
One-ounce American Eagles were the biggest gainers this week, according to the latest United States Mint bullion coin sales figures. The weekly increase for the Gold Eagle was 29,500 versus the previous 10,000. The fractional one-half and one-tenth ounce sizes rose as well, as highlighted in the table below.
The one-ounce bullion American Silver Eagle added 700,000 for a third straight week. The .999 fine silver coin is 21,000 shy of reaching 12.5 million for the year.
United States Mint bullion sales figures follow.
U.S. Mint 2011 Bullion Coin Sales
Prior Weekly Gains
Weekly Gains
April
YTD 2011
American Eagle Gold Coin (1 oz)
10,000
29,500
19,000
282,500
American Eagle Gold Coin (1/2 oz)
0
4,000
0
21,000
American Eagle Gold Coin (1/4 oz)
10,000
0
0
38,000
American Eagle Gold Coin (1/10 oz)
10,000
5,000
0
160,000
American Buffalo Gold Coin (1 oz)
9,000
3,000
0
38,000
American Eagle Silver (1 oz)
700,000
700,000
50,000
12,479,000