Precious metals trading opened on a defensive note once again this morning, as currency markets saw the US dollar as well as the euro (at slightly different times) benefiting from hawkish jawboning coming from the official sector.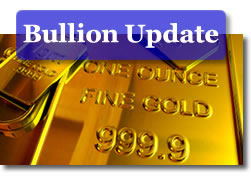 Additional signs of improvement in the US economy are, one-by-one, undermining the exuberance that has been the signature sentiment in various commodity trades and are, one-by-one, shifting the tide in favor of a higher interest rate environment (one that is not so conducive to aggressive betting in this niche).
Spot gold opened with a $6.70 per ounce loss in New York on Tuesday, with a quote on the bid-side at $1,414.20 as the greenback was slightly higher on the index (at 76.29) and as crude oil lost 83 cents to drop to the 103.15 mark per barrel. The euro was not faring badly either, as it traded at 1.406 at about the same time. More on why this was so, will follow below.
The gold market timers' levels optimism keeps hovering near very highly bullish levels and contrarian analysis construes this as a possibly worrisome development for the yellow metal's near-term price direction. Meanwhile, Elliott Wave-based market parsing offers the possibility that the $1,448.14 high seen last Thursday may have already set into motion a multi-month-long decline in prices — one which could be punctuated by stops around $1,380 but one whose ultimate aim points towards the $1,307 and possibly down towards the $1,043 area. If the $1,448 zone is once again attained, there is scope for the bulls to try to reach for the $1,525 high water mark in bullion.
Silver prices also declined in New York this morning, losing 43 cents at the market's opening bell to start the session off at $36.73 the ounce. Platinum and palladium both fell modestly, with the former slipping $3 to $1,736.00 and the latter falling $6 to $738.00 per ounce. No change was reported in rhodium with a $2,330.00 bid quote. The EU this morning proposed the banning of all petrol-powered vehicles from all of its cities by the year 2050.
The proposal (really a plan) would entail shifting 50% of current travelers to and from EU cities to rail and water-based transportation systems. The plan sounds mighty ambitious but, if it becomes a reality, the effects on the platinum-group metals could be significant. Forcing EU residents to effectively stop using their cars is not an insignificant market development. Hopefully, the 'slack' from any such a shift in transportation modes would be offset by demand from the BRICS…
Yet another hawkish assertion relating to US monetary policy from a Federal Reserve policymaker was made this morning, and the comment lifted the US dollar slightly on the trade-weighted index following a decline it experienced in the wake of certain other (similar in nature but euro-related) remarks made by ECB President Trichet. In the strongest wording yet to emerge from a Fed official this year, St. Louis Fed President James Bullard said that the US central bank "may not be willing or able to wait until all global uncertainties are resolved to begin normalizing policy."
Translation: US interest rate hikes are on the horizon, and sooner than some might like them to materialize. Mr. Bullard also noted that markets ought not to expect US monetary policy to remain ultra-accommodative indefinitely and that "discussion of the normalization of U.S. policy will likely return as the key issue in 2011." Such "normalization" of US monetary policy has been a hotly contested topic in commodities' circles for some time now, however the aggressive speculation in the niche has hardly abated in recent months while the opportunity to utilize dollars borrowed at virtually no cost remained at hand. By alluding to the inevitability of hikes in interest rates, Mr. Bullard's words could be the one signal by which the speculative crowd might wish to consider itself as having been placed "on notice."
Then again, the reference to upcoming higher rates was precisely the one that also shaped Mr. Trichet's speech made this morning. In this case, the markets have pretty much already factored in a perhaps quarter-point-large lift in euro rates and have circled the month of April as the one within which one might see such a first adjustment take place. Mr. Trichet certainly did not shy away from reinforcing the rate hike expectation and he thereby gave euro buyers an added level of confidence when they set out to accumulate the currency this morning.
The "race to the bottom" that many a hard money newsletter had declared was in full swing, and would last for years to come, now has apparently but a few weeks before it begins to turn in the opposite direction. As of this morning however, the not-so-hot data regarding the state of US home prices (declines in value were noted by Case-Shiller in almost all tracked US urban markets) and the fairly large decline in March US consumer confidence levels both reinforced the view that while the period following the June expiration of QE2 is likely to see less Fed accommodation, for the time being, the conditions are not quite ripe for an early termination of such monetary policy. Thus, gold and silver trimmed early losses in the wake of the Conference Board's consumer confidence (or lack thereof) data, even though such a drop had been anticipated by economists. Subsequently, most of the trading focus shifted back towards the general month-end book-cleanup and the upcoming US payrolls data due prior to the weekend.
Other market-shaping news offered very little in terms of material changes from yesterday's tenor. The situation in Libya continued to point towards a turning of the military tide in favor of the rebels at the expense of Mr. Gaddafi's forces, while the situation in Japan continued to point to signs that one of the damaged Fukushima complex reactors is leaking radiation at levels that might only be possible to be construed as implying that either a partial or complete core meltdown is likely in progress. Japan's dead and missing toll has now surpassed the 28,000 figure while nearly a quarter million people continue to live in temporary shelters.
Over in the MENA region, the Syrian Cabinet tendered its resignation amid on-going civilian unrest, while Yemeni protesters continued to keep the pressure on their government at intense levels. A deadly but accidental blast at an ammunitions factory in Sanaa killed 78 people and only served to heighten the already extreme levels of tension within the country.
Finally today, please be advised that this afternoon will mark the release of the CPM Group's Gold Yearbook. The New York-based consultancy company is considered the foremost authority on markets for precious metals, and provides detailed and highly regarded research on specialty and base metals, energy, and agricultural markets. CPM Group provides advisory services relating to commodity risk management and asset management as well. Any precious metals investor who does care about the markets' fundamentals and wishes to avail himself of a thorough analysis of the markets should not hesitate in picking up a copy of this seminal publication. Kitco is proud to be a sponsor of the fine research work that CPM carries out each and every year.
Our good friends at the CPM Group have been producing annual yearbooks on gold, silver, and platinum group metals, in a series of reports that began in 1971. This year's reports are being published by Euromoney Books and Metal Bulletin. This year's reviews have been priced at $150.00 plus shipping and handling to make them readily available to individual investors as well as institutions, corporations, and governments.
The Gold Yearbook 2011 is sponsored by Barrick Gold Corporation, Bahrain Financial Exchange, CME Group, Commodities Now, The Electrum Group of Companies, Goldcorp Inc., Global Board of Trade Ltd., Institute of Scrap Recycling Industries, Inc., Kitco Metals Inc., MKS Finance S.A., Multi Commodity Exchange of India, New Zealand Mint, Noah Financial Innovation, Primero Mining Corp., Sabin Metal Group of Companies, Singapore Mercantile Exchange, and Timmins Gold Corp.
Jon Nadler
Senior Analyst
Kitco Metals Inc.
North America
www.kitco.com and www.kitco.cn
Blog: http://www.kitco.com/ind/index.html#nadler