U.S. bullion prices declined slightly Friday, but advanced on the week. Weekly gains in precious metals ranged from a low of 0.7 percent to a high of 5.7 percent.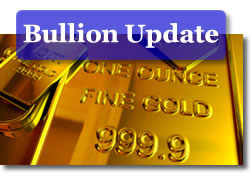 April gold prices lost $8.70, or 0.6 percent, to settle at $1,426.20 an ounce on the Comex in New York. Gold prices hit an all-time intraday high of $1,448.60 an ounce on Thursday, but then reversed course and closed modestly lower. Profit-taking and a stronger U.S. dollar hurt the metal further on Friday.
"After the key technical reversal yesterday, when we could not turn around and blow through the record high, everybody started heading for the door at the same time," Frank McGhee, head precious metals trader of Integrated Brokerage Services, said and was quoted on Reuters.
"Gold made new highs, but it didn't have any follow- through," Frank Lesh, a trader at FuturePath Trading LLC in Chicago, was cited on Bloomberg. "If you're a trader bulled up in gold and it didn't launch, you have to sell."
Gold was traded as low as $1,422.00 and as high as $1,438.10. Despite losses on Thursday and Friday, gold prices advanced 0.7 percent this week and are up 0.3 percent in 2011.
"After hitting all-time highs, gold prices could backtrack a bit next week, but the downside for the yellow metal will be limited because of global uncertainty and U.S. dollar weakness," wrote Debbie Carlson of Kitco News.
Silver prices for May delivery fell 32.6 cents, or 0.9 percent, to close at $37.049 an ounce. They ranged between $36.880 and $37.795. With the exception on Friday, the metal posted sizable increases each day this week which lifted its weekly gain to 5.7 percent. Silver prices have soared 19.8 percent this year. They reached a fresh 31-year high on Thursday at $38.18 an ounce.
Platinum prices for April delivery declined $14.40, or 0.8 percent, to $1,745.60 an ounce. Prices ranged between $1,743.80 and $1,757.80. Platinum rose 1.3 percent this week but it is still down 1.8 percent in 2011.
Palladium prices for June delivery retreated $1.85, or 0.2 percent, to settle at $750.40 an ounce. They hit an intraday low of $747.15 and a high of $757.30. Palladium surged 2.6 percent this week. However, the metal has fallen 6.6 percent this year.
London PM fix bullion prices also declined slightly on Friday versus their previous PM fixings, but they advanced on the week.
The PM gold fix dipped $11.00, or 0.8 percent, at $1,436.00 an ounce on Friday but advanced 1.1 percent this week.
Silver fell 10 cents, or 0.3 percent, for the day but it surged 7.2 percent on the week. Its fixing on Friday was $37.680 an ounce.
Platinum lost $10.00, or 0.6 percent, with its fixing of $1,752.00 an ounce. It gained 1.9 percent this week.
Palladium dropped $4.00, or 0.5 percent, with its Friday PM fixing of $754.00. The metal gained 3.7 percent for the week.
Sales of United States Mint bullion coins rose almost across the board this week. The one-half ounce American Gold Eagle was the only Mint bullion coin to remain unchanged. The other 22-karat Gold Eagles each advanced 10,000 on the week. The 24-karat American Buffalo Gold climbed 9,000 during its first full week of availability. As is almost always the case, the bullion American Silver Eagle shot up the highest. The .999 fine silver coin added 700,000 since last Friday, matching its previous weekly increase.
Read the latest US Mint sales article for information on recent demand for United States Mint numismatic coins.
United States Mint bullion sales figures follow.
U.S. Mint 2011 Bullion Coin Sales
Prior Weekly Gains
Weekly Gains
March
YTD 2011
American Eagle Gold Coin (1 oz)
9,500
10,000
50,000
253,000
American Eagle Gold Coin (1/2 oz)
0
0
4,000
17,000
American Eagle Gold Coin (1/4 oz)
0
10,000
20,000
38,000
American Eagle Gold Coin (1/10 oz)
20,000
10,000
35,000
155,000
American Buffalo Gold Coin (1 oz)
26,000
9,000
35,000
35,000
American Eagle Silver (1 oz)
700,000
700,000
2,117,000
11,779,000