U.S. gold broke away from an all-time record while silver prices fell from their more than three-decade high. Each of the metals declined 1.5 percent on Thursday.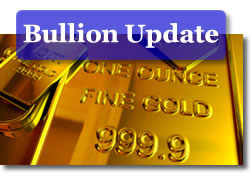 Factors analysts attributed for pulling down prices and spurring profit-taking were weaker oil prices, potential peace mediation in Libya and a warning by the European Central Bank that it could raise interest rates soon to clamp down on inflation.
April gold prices fell $21.30 to settle at $1,416.40 an ounce on the Comex in New York. It ranged between $1,412.20 and $1,436.90. Gold closed at $1,437.70 on Wednesday, its best settlement ever.
"Obviously, you have the European talk about higher interest rates down the road and a stalling crude rally, which are weighing on the market now," Frank McGhee, head precious metals trader of Integrated Brokerage Services LLC, said, according to Reuters. "You have everything that at least set us up for a day of profit taking."
"Peace, if it happens, may be bearish for gold and silver," said Dennis Gartman, an economist and the editor of the Suffolk, Virginia-based Gartman Letter. "It is time again to head to the sidelines in gold and precious metals."
"I think there's going to be a rally tomorrow going into the weekend. Today's selloff presents a good buying opportunity," Adam Klopfenstein, a senior market strategist at Lind-Waldock in Chicago, said and was cited on MarketWatch.
Silver prices for May delivery declined 50.8 cents to finish at $34.327 an ounce. Silver traded as low as $34.04 and as high as $34.96. Silver prices settled to $34.835 on Wednesday, its best closing since 1980.
Platinum prices for April delivery lost $26.30, or 1.4 percent, to $1,833.00 an ounce. It ranged between $1,821.10 and $1,854.40.
Palladium prices for June delivery retreated $7.85, or 1.0 percent, to $814.80 an ounce. Prices traded from $811.85 to $824.80.
Earlier London PM fixing prices fell across the board as well. The PM gold fix price was $1,421.50 an ounce for a loss of $14.00 from its previous PM fixing. Silver was $34.53 an ounce, down 22 cents. The platinum fix was $1,841 an ounce for a loss of $5. Palladium declined $4 with its fixing of $817.00 an ounce.
United States Mint bullion coin sales continue to be tame in their March start. No additions were published by the Mint Thursday. The Silver Eagle total has remained the same for three-straight days. The single bullion coin to show an improvement this month, the one-ounce Gold Eagle, advanced 6,000 on Wednesday. The latest bullion sales figures from the United States Mint follow.
U.S. Mint 2011 Bullion Coin Sales
March
2011 Totals
American Eagle Gold Coin (1 oz)
6,000
209,000
American Eagle Gold Coin (1/2 oz)
0
13,000
American Eagle Gold Coin (1/4 oz)
0
18,000
American Eagle Gold Coin (1/10 oz)
0
120,000
American Eagle Silver (1 oz)
0
9,662,000