The gold average over the last week easily moved above the $1400 level and tipped the United States Mint's 24-karat gold coin pricing scale as it raised prices on all First Spouse Gold Coins and the American Buffalo Gold Proof Coin.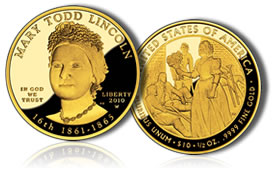 The US Mint can adjust its numismatic gold coin prices weekly, but gold has to move into a new $50 threshold which tends to happen infrequently. Shifting precious metals have resulted in two previous changes in 2011 — a negative adjustment on January 26 and an upward swing just two weeks ago on February 16.
The US Mint raised prices by $25 for the numismatic proof and uncirculated:
Abigail Fillmore First Spouse Gold Coins
Jane Pierce First Spouse Gold Coins
Buchanan's Liberty First Spouse Gold Coins
Mary Todd Lincoln First Spouse Gold Coins
Prices were raised on the proof versions from $854 to $879. The uncirculated coins went from $841 to $866. The 2010 American Buffalo Gold Proof Coin went from $1,660 to $1,710. The price points are the highest the US Mint has ever charged for its numismatic gold coin products.
The weekly London Fix gold average would have to move outside the $1,400 to $1,449.99 range for another up or down adjustment to occur on US Mint numismatic gold coins.
The US Mint has indicated that it expects to offer the 2011 Gold Eagle Proof Coins beginning on April 21. The one-ounce 2011 Gold Eagle Uncirculated Gold Coin is scheduled to launch on May 5. The 2011 American Buffalo Gold Proof Coin will be issued on May 19. The 2011 Platinum Eagle Proof Coin is expected to be available on May 26. These coins, along with new First Spouse issues, will be subject to potential weekly price changes when they are released.
US Mint bullion coins, which have a different finish and do not carry a mint mark like their numismatic counterparts, have their prices adjusted daily.